Olympic torch relay: Day 34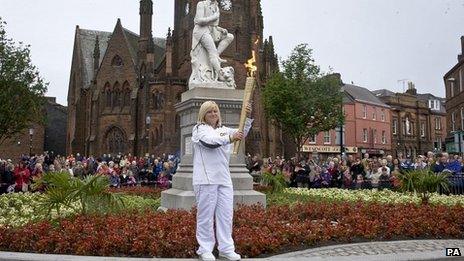 On the day the London 2012 Festival begins, the Olympic torch relay continues its journey, travelling from Dumfries in Scotland through to Bowness-on-Windermere in the Lake District.
The Olympic flame will make another of its more unusual trips, travelling by stream boat across Lake Windermere from Waterhead to Bowness-on-Windermere.
As ever, School Reporters have been telling the story of the torch and also of all things 2012.
Pupils from Dumfries Academy have expressed their annoyance towards the London Olympics overshadowing the Commonwealth games to be hosted by Scotland in 2014. They discuss the inequalities in the budget and media coverage given to these two sporting events.
"We ask the question whether or not the London Olympics are relevant to Scotland - ironically presented to you by Scotland's most obese town, Dumfries," reads the School Reporters' story.
"The Commonwealth Games are to be held in Glasgow in 2014 yet we have heard not a peep about it in comparison to the thriving excitement of the young hopefuls to be part of the worldwide event that are slashed across our nation's newspapers."
And the reporting team show a keen sense of irony as they explain their stance.
"We have decided not to cover it in such great detail as we are far too busy eating our deep-fried Mars bars while we wait for our turn to shine in 2014...," they add.
Meanwhile, School Reporters Jess and Anna from Keswick School look into the controversy surrounding Saudi Arabia's ban on women playing sport. Their report looks at those involved in the opposition against the decision as well as contemplating how sport in Britain has affected their own lives.
"We think that school would be very different for us if we weren't allowed to do sport and PE," they wrote.
"Sport helps to build out confidence and keep us fit as well as it being enjoyable and fun. In the summer of 2012 our school is running a trip to the Olympics, allowing pupils to experience the games first hand.
"The trip has shown to be hugely popular, proving that young people are indeed interested in the Olympic Games, as well as sport in general."
Keep on running!
Which school on the torch relay route has the most Olympic spirit? To celebrate the Olympic torch relay, School Report are after your 'Keep on running' videos.
If you've got a fun fact that links your school to the Olympic torch relay, let us know!
We'd love to see your videos and if you want some inspiration, check out the video above!
Celebrating culture
The London 2012 festival officially kicks off today and School Report is keen to hear if your school is getting involved.
The festival will see artists from around the world come to the UK to perform and show off their work. Lots of the events are free, so if you are going to one remember to let us know!
Don't forget...
The BBC's torch relay website at www.bbc.co.uk/torchrelay is the perfect place to keep across everything, watch the torch's journey continuously and get full details of the route.
For tips on reporting the Olympic torch relay, visit our special learning resource for some advice on how to cover it when it comes to your area.