Olympic torch relay: Day 33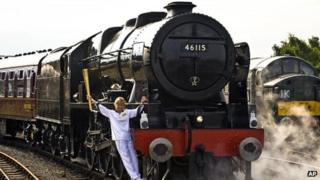 It's day 33 and the Olympic torch relay is heading from York to Carlisle on the latest leg of its 8,000 mile journey around the UK, and School Reporters have been finding out all about its journey and the people carrying the flame.
One of today's torchbearers is Horrible Histories author Terry Deary, who will hold the flame in Barnard Castle.
School Reporters from Parkside Sports College in Durham interviewed Terry ahead of his run.
And lots of other School Reporters in Yorkshire have been busy covering the big 2012 stories all year, including investigating the darker side of the Games.
Torchbearer Terry Deary speaks to School Report
Terry Deary is famous for writing the "Horrible Histories" books - and today, he gets to carry the Olympic torch through Barnard Castle!
Rebecca and Harry from Parkside Sports College in Durham got to interview Terry ahead of his run.
They found what he feels about his big moment, why he started writing and why his readers are so important to him.
Terry Deary has also made his very own "Horrible Histories" of the torch relay for School Report - check it out!
2012 reporting
Christie and Caitlin from Boroughbridge High School have reported on the release of Olympic tickets and how to avoid hoax sites that are selling them. They also discuss the Olympic favourites hoping to lead team GB to gold in this summer's games.
Harrogate Grammar School have also looked at how you can purchase tickets for the events and why you shouldn't miss out on the chance to see the Games.
And staying with the theme of ticket sales, Wolsingham School have acquired six tickets for selected students to experience the football at St James' Park, the home of Newcastle United.
School Reporters Paul, Will and Hayden also interview their teacher Mr Yau on his role in the opening ceremony and how, as part of the Get Set network, the school is getting involved with London 2012
Meanwhile, School Reporter Mya from William Howard School interviews fellow student and Paralympian hopeful Emma who trains five times a week for her two sports, boccia and club throwing.
Having already won the North of England boccia regional finals, Emma says her dream is to compete in the 2016 Olympics but for now her main focus is to improve on her sport.
Don't forget...
The BBC's torch relay website at www.bbc.co.uk/torchrelay is the perfect place to keep across everything, watch the torch's journey continuously and get full details of the route.
For tips on reporting the Olympic torch relay, visit our special learning resource for some advice on how to cover it when it comes to your area.