Olympic torch relay: Day 26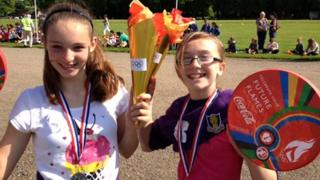 Wednesday sees the Olympic torch relay travel from St Andrews to Edinburgh in a 145-mile journey, and School Reporters were on the route to cover the story.
In West Lothian, 50 pupils from Whitburn Academy attended a torch event at Hopetoun House in the afternoon and sent in the photo you can see at the top of the page.
Young visitors to Hopetoun House got the chance to take part in a range of activities including sprinting, trampolining and Zumba before they watch the torch arrive.
And as well as what went on, the torch relay is also a good opportunity to showcase the stories about 2012 and the Olympics already produced by School Reporters.
Investigating the Olympics
Jade, Polly and Hayley from Grangemouth School investigate how beneficial the Olympics really is outside of London. (You need to click on the News School 2012 link on the left-hand side of the page to see the report)
Their research returns some concerning figures on the money spent on the Games in contrast to the money being made within Scotland as well as uncovering how ill-informed young people are about Olympic activity within the country.
"The statistics from the Scottish government officials cast serious doubts on how much Scotland is really going to benefit from the Olympics," write School Reporters Jade, Polly and Hayley.
Keep on running!
Which school on the torch relay route has the most Olympic spirit? To celebrate the Olympic torch relay, School Report are after your 'Keep on running' videos.
If you've got a fun fact that links your school to the Olympic torch relay, let us know!
We'd love to see your videos and if you want some inspiration, check out the video above!
Don't forget...
The BBC's torch relay website at www.bbc.co.uk/torchrelay is the perfect place to keep across everything, watch the torch's journey continuously and get full details of the route.
For tips on reporting the Olympic torch relay, visit our special learning resource for some advice on how to cover it when it comes to your area.