Olympic torch relay: Day 20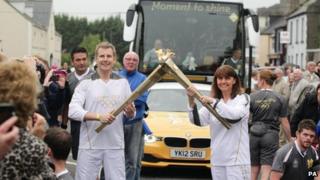 On Thursday, the Olympic torch relay will finish its trip round Northern Ireland and head to Scotland.
A few famous fames will be carrying the flame, including former Blue Peter presenter Zoe Salmon and comedian Patrick Kielty.
And this afternoon, the torch will travel across the sea to Scotland. The ferry carrying the flame is expected to land in Stranraer at 1900.
The relay is all part of the build up to the Olympic and Paralympic games and School Reporters at Magherafelt High School have had the big events of the summer on their minds for some time.
Lucy, who is in Year 10, has been reporting on her two favourite Olympic sports, athletics and gymnastics. Not only does she take a keen interest in these events for London 2012 but Lucy actually participates in them in her spare time.
"These sports are popular because once you start watching them the more intriguing it becomes," she writes.
"And it is so graceful and mind-boggling because you wonder how these people cope in such long races and how do they jump so high?!"
School Reporters elsewhere in Northern Ireland have also been busy covering the relay while it's been in their areas - use the tabs along the top of this page to see what they've been up to!
Keep on running!
Which school on the Torch Relay route has the most Olympic spirit? To celebrate the Olympic Torch relay, School Report are after your 'Keep on running' videos.
If you've got a fun fact that links your school to the Olympic torch relay, let us know! We'd love to see your videos and if you want some inspiration, check out the video above!
Don't forget...
It's 50 days until the Olympics get underway. School Report has produced a range of resources to help you keep reporting all summer, so check them out to get some ideas about where to start!