Olympic torch relay: Day 11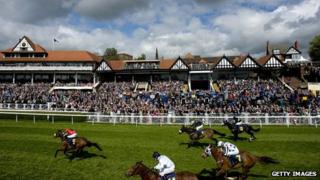 One of the main aims of the Olympic torch relay - which will cross back into England from Wales on day 11 - is to get everybody really excited about the start of the Games.
The pupils at Castell Alun High School in Flintshire, one of the schools along the route on Tuesday, shouldn't take too much persuading, having already held an Olympics Day back in March!
School Reporters at Castell Alun High School reported on the event, and interviewed Emily and Jack, two Year 9 pupils with a keen interest in sport, as part of their story.
"We are extremely excited for the event as the athletes are role models to us, they inspire us to be like them," said the pair.
One interesting angle that the School Reporters investigated was about the involvement of Wales in the Olympics.
Some of the school's Welsh teachers suggesting that Wales should actually compete as a nation in their own right rather than as part of Team GB! With genuine medal prospects like 400m hurdler Dai Greene and cyclist Geraint Thomas among the 'Team Wales' ranks, maybe the team would do pretty well...
We've using the relay as a great excuse to revisit some of the previous great stories that School Reporters have come up with about 2012 and the Olympics.
Don't forget...
The BBC's torch relay website at www.bbc.co.uk/torchrelay is the perfect place to keep across everything, watch the torch's journey continuously and get full details of the route.