Olympic torch relay: Day 9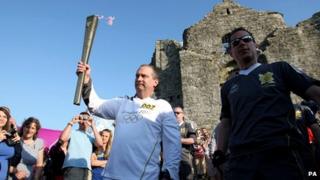 The torch set off from Swansea and made its way to Fishguard before heading along the coast to Aberystwyth as it continued its journey around Wales.
We've used the relay as a great excuse to revisit some of the previous great stories that School Reporters have come up with about 2012 and the Olympics.
The reporting team at Cwmtawe Community School in Swansea interviewed one of their schoolmates who is an Olympic swimming hopeful for the next Games, taking place in Rio in 2016.
It will also be an exciting couple of days at Lampeter Comprehensive School, with the torch moving close to their area on Sunday and their head girl Carwen carrying the torch on Monday!
Carwen has been involved in the School Report project as a mentor to younger pupils in her school - perhaps that's swung it for her to become one of the 8,000 torchbearers!?
Olympic Dreams
The Olympic torch relay is one part of the build up to the Olympic Games, which officially begin on 27 July.
The people organising the Games hope young people will be inspired by what they see this summer but in Swansea, one young athlete is already raring to go.
Ellena, 15, is a Junior Youth Olympic Champion in swimming and her fellow pupils at Cwmtawe Community School interviewed her about her hopes and dreams.
They even got a quote from her swimming coach, who's confident that Ellena will be competing in Rio at the 2016 Olympics.
Don't forget...
The BBC's torch relay website at www.bbc.co.uk/torchrelay is the perfect place to keep across everything, watch the torch's journey continuously and get full details of the route.