Olympic torch relay: Day 69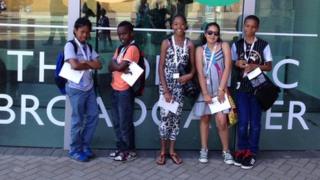 Today is the last day before the torch relay reaches the Olympic Stadium, and the torch continues to travel through London ahead of Friday's opening ceremony.
School Reporters from Burlington Danes Academy are on location close to White City - the site of the 1908 Olympic Games in London - to report on all the latest news.
The pupils already know all about the 1908 Games, having made a film for School Report to mark a year to go to the start of the Olympics about exactly that subject!
And other School Reporters have interviewed some of the day's torchbearers, including inspirational charity fundraiser Phil Packer and former Paralympic wheelchair basketball star turned TV presenter Ade Adepitan.
And of course School Reporters from schools along today's route have already been reporting on 2012 stories - including an important reminder that it's not just about the sport...
Latest updates
1545: After seeing the torch go past on Wood Lane, the School Reporters walked up to White City to the site of the 1908 Olympic Games.
While they were there, they chatted to Newsnight culture correspondent Stephen Smith who was there filming as part of a report for the programme!
The School Reporters ended up at the other end of a microphone as Stephen interviewed them about their experiences and what they thought about the torch relay and the Olympics.
1512: Next to line up an interview was School Reporter Tyreese, who grabbed a word with a policeman on duty outside BBC Television Centre on Wood Lane.
PC Seymour said he was particularly looking forward to seeing Strictly Come Dancing presenter Sir Bruce Forsyth run with the torch, prompting a memorable exhange:
"Who's he...? Is he an Olympic hopeful?" asked the 11-year-old Tyreese, clearly not too familiar with Forsyth's body of work on British TV.
"He's a very old man. He presents Strictly Come Dancing," explained PC Seymour...
1503: School Reporter Pele has just interviewed one of the spectators waiting for the torch's arrival, Mr Eric Lake who can remember going to the last Olympic Gameas to be held in London back in 1948.
"I think it's fantastic - it's just a great event and gets everyone together in peace and harmony," he said.
"I've been twice - the first time was when I was a very little boy in 1948 and my dad took me to Wembley Stadium."
1445: The School Report team have Burlington Danes Academy have arrived on Wood Lane in White City to report on the penultimate day of the torch relay. You can see their photo at the top of the page!
School Reporter Pele asked a woman in the crowd how she felt about the 2012 Olympics and she told him it was "great for London and very exciting because it's the third time London has hosted the Games".
'Walking miracle'
Phil Packer was paralysed after being severely injured while on military duty in Iraq in 2008, but he has gradually regained the use of his legs and set about walking 2012 miles in 2012 to raise money to build a Centre of Inspirational Excellence for young people, working with 50 different charities.
He was interviewed by School Reporters from Sandleford School in Coleraine, Northern Ireland, and told them about his challenge and his plans for the project.
"I started to walk again in 2009 and I haven't stopped," he said.
Ade inspires Langdon
Ade Adepitan won a bronze medal at the 2004 Paralympics as a member of the Great Britain wheelchair basketball team, and has since established himself as a familiar presence on TV screens with his work as a presenter.
He visited Langdon School in east London to talk about how the Olympics would transform the area and his experiences and career.
School Reporters from Langdon School interviewed Ade, and found out his main inspirations growing up in east London were his parents and legendary boxer Muhammad Ali.
There's more to life than sport!
School Reporters from St Marylebone CE School in London have been reporting on the Cultural Olympiad, which is running alongside the Olympic Games.
Rani and Silva visited the BBC's Maida Vale Studios to meet, and interview some of the musicians involved.
The Urban Classic concert is a mix between classical music, from the BBC Symphony Orchestra, and rappers and grime artists.
They said that they "felt a bit nervous and very excited" when they met Fazer from N-Dubz.
2012 reporting
School Reporters from Lambeth Academy had the opportunity to meet Olympic boxing hopeful Hannah Beharry, who also attended the academy.
Hannah, who has won many British titles, ultimately missed out on a place in the final TeamGB squad but spent her time at the academy holding a boxing session to coach 20 very lucky pupils.
Don't forget...
The BBC's torch relay website at www.bbc.co.uk/torchrelay is the perfect place to keep across everything, watch the torch's journey continuously and get full details of the route.
For tips on reporting the Olympic torch relay, visit our special learning resource for some advice on how to cover it when it comes to your area.