Olympic torch relay: Day 65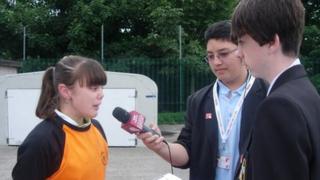 The Olympic torch stays close to the Olympic Park in London as it travels from Redbridge to Bexley, and School Reporters along the route have already been investigating 2012 stories and interviewing one of today's torchbearers.
Pupils from St Columba's Catholic Boys' School took advantage of the opportunity to interview Laura Crane, who has a remarkable story of overcoming illness to coach young athletes at her local club.
Meanwhile, School Reporters from Redbridge started their reporting on the relay when the route was announced last year, while students in Bexleyheath interviewed a youthful medal hopeful.
'Inspirational' torchbearer talks to School Report
School Reporters from St Columba's Catholic Boys' School had a chance to speak to Laura Crane ahead of her torchbearing stint in Bexley, Kent, on 22 July.
The boys said that Laura's story was "inspirational". She had continued to coach young athletes from Bexley Athletics Club despite serious illness, and said that being chosen to carry the Olympic torch was a "complete and utter honour".
Asked by School Reporter Dan, 13, if she was going to do anything funny with the torch, she replied: "No!... Hopefully it won't rain, and it won't be windy, and it will stay lit for the whole run!"
Olympic star back to school
Students at Townley Grammar School for Girls got the chance to interview former pupil and weightlifter Zoe Smith., who has subsequently been selected as part of the TeamGB squad.
Zoe held a press conference with School Reporters and revealed what she'll do if she wins a medal at the Olympics.
They also asked her about the life of athlete, and found it is not easy; she has to train hard, and does not have much time for socialising.
Redbridge perspective on the torch relay
School Reporters at Mayfield Schoolin Redbridge got on the case when they found out that the torch relay would be passing through their area.
They took the chance to record interviews with some of the sixth-formers to gauge the level of interest in watching the torch come to their area.
The answers revealed a wide range of opinions, from complete indifference to great excitement!
2012 reporting
School Reporter Nadia from The Albany College wrote an article which addresses some of the Olympics' more controversial stories, including sprinter Dwain Chambers allegedly training secretly with the TeamGB relay squad.
Chambers, who received a ban from athletics after admitting using performance-enhancing substances, has subsequently been selected for the TeamGB team.
It followed a legal battle, with the British Olympic Association's lifetime ban for athletes found guilty of doping offences overturned in court, clearing the way for the likes of Chambers and cyclist David Millar to compete at London 2012.
Don't forget...
The BBC's torch relay website at www.bbc.co.uk/torchrelay is the perfect place to keep across everything, watch the torch's journey continuously and get full details of the route.
For tips on reporting the Olympic torch relay, visit our special learning resource for some advice on how to cover it when it comes to your area.