Olympic torch relay: Day 64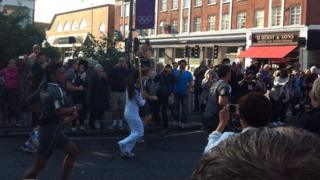 With less than a week to go before the torch reaches the Olympic Stadium, it is getting very close today, passing through the Olympic borough of Greenwich and School Reporters are again telling the story of 2012 and the relay.
Lots of School Reporters from along today's route have been reporting on the Olympics for a long time already, while pupils from Charlton School have been out and about to cover the torch's arrival in their local area today.
Charlie and Harry have already been sending in updates and photos from their reporting trip - great work guys!
Other School Reporters have visited the Olympic Park to talk to Games chief Lord Coe and Team GB's Paralympics squad, while ohers have been to the ExCeL Centre in London which is also a Games venue, and students in Leytonstone covered the launch of an Olympic initiative on their own doorstep.
And of course we have the latest in our series of reports from School Reporters and Blue Peter as the pupils of Lister Community School tell us all about Newham and the torch's journey!
Latest updates
1142: And the third clip from Harry and Charlie's reporting trip sees them take their chance to describe what is what like to be involved in the day, and seeing the Olympic flame come to their local area.
"Exciting" is the main theme that comes through, with both reporters seeming to have a great day.
And now Harry can go and enjoy a well-deserved rest before his birthday party later today!
1125: The next interview to be sent in was Charlie talking to another local resident, John Bullen, about what the Olympics being held in London means to him.
"It's a tremendous event," said John. "It won't happen again in London for a long time, so it's iconic, I guess."
1100: The School Reporters have been sending in their interviews and reaction from reporting on the event. The first clip is Harry talking to local resident Sue Bullen, who came out to watch the torch.
She explained how she thought the Olympics would affect the local area, admitting to some concerns about parking issues. But she is also very excited about seeing the equestrian events in Greenwich!
0912: We've just received this update from the Charlton School reporting team:
"Even though the torch passed by so early, the streets were very crowded. Harry did the first interview of the day, chatting to spectator Sue Bullen who told him she's got tickets for the equestrian events in Greenwich Park even though she's allergic to horses!
"Then Charlie spoke to John Bullen before transforming into the team photographer, snapping pictures of the torch as it passed.
"Charlie and Harry then recorded a bit more audio about their reflections on the day before heading off. Harry has a very busy day ahead - he's having his birthday party this afternoon!"
Welcoming the torch to town
School Reporters from Lister Community School in Newham have worked with Blue Peter's production team to tell the story of the torch's journey and show off some of the local attractions.
With presenter Ken fronting the report, the School Reporters point out some of the places the torch has visited over the last seven days and take the cameras to the Olympic Stadium, Upton Park - the home of West Ham United - and, of course, the £1 fish man from Queen's market in Green St!
New beginnings in Greenwich
School Reporters from Greenwich are thrilled at the prospect of enjoying a Games on their London doorstep.
What events are they excited about? Why is it such a huge event for this country?
Students at Charlton School are looking forward to seeing Usain Bolt rip up the athletics track, experiencing 'new beginnings' and embracing all the countries exchanging their own cultures.
Putting London to the test
In December last year an international taekwondo event was held at London's ExCeL centre, to test the venue ahead of its use during the Olympics.
School Reporters Ajmal, Hasanur and Ibrahim from Langdon School in Newham were there to cover the event.
They said that watching the matches "was as if we were part of the 2012 Games itself."
They talked to some of Team GB's squad and coaches, including Sarah Stevenson, the current the world champion.
Olympic legacy in Greenwich
Harry from Charlton School in Greenwich was one of a group School Reporters from across the country who quizzed Lord Coe on different aspects of the Olympics.
He asked the Olympic chief about his borough's Olympic legacy for disabled children.
Lord Coe told him he wants to get more young people involved and "changing public attitudes towards disability.
Paralympics the "biggest highlight of my career"
South Africa's Oscar Pistorius - who is known as the 'Blade Runner' - spoke to School Reporters from Stoke Newington School, about his preparations for London 2012.
He will compete in both the Olympics and Paralympics, and told the students that "the more I accomplish, the more nervous I become, the more pressure I put on myself to do well."
They also uncovered an unusual interest, hidden behind his fame on the track.
Not just one flame for 2012
It is not only the Olympic torch that creating excitement, and four separate Paralympic flames are also touring the country.
School Reporter Fatima from Mulberry School for Girls in London went to the Olympic Park to report on the launch of the relay in September.
The excitement of the event caused her some mixed feelings; she said "felt a rush of pride but my nerves got worse the closer it got to be my first ever BBC News School Report interview."
She spoke to members of the Team GB cycling and equestrian squads, and well as Games chief, Lord Coe.
Lord Coe: "Plan your 2012"
School Reporters Natasha and Lawrence from Leytonstone Business and Enterprise School said "it was a big day" for their school when Olympics chief Lord Coe paid a visit.
They reported on the launch of 'Plan your 2012" - a scheme trying to get secondary schools more involved in sport.
He told them he's really interested in generating interest among young people, and they also asked him about the Games' legacy in their area.
Getting excited about the relay
When the torch route was officially announced in November, School Reporters at Leytonstone Business and Enterprise School gave their reaction.
"We love the torch! It's great that its design has meaning and represents so many important aspects of the our games!
"It is fantastic that it will reach so many people, and so many communities. It's so exciting to know that young people will be involved in the relay! We will definitely be celebrating the arrival of the torch in our town on 21 July 2012!" - Natalie, Natasha, Jodan, Cameron, Ruben & Eliza (Sports Leaders)
More 2012 reporting
School Reporters from Cumberland School interviewed their PE teacher, Mr Dough, who spoke of her feelings, when told her students would be participating in the Olympic opening ceremony.
She was said to be "excited", "nervous" and "shocked", that 60 of her students would take part in the opening ceremony, in front of millions.
Don't forget...
The BBC's torch relay website at www.bbc.co.uk/torchrelayis the perfect place to keep across everything, watch the torch's journey continuously and get full details of the route.
For tips on reporting the Olympic torch relay, visit our special learning resource for some advice on how to cover it when it comes to your area.