Olympic torch relay: Day 59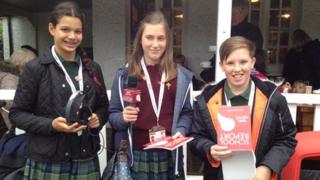 The torch continues its journey along the South Coast, as it travels from Portsmouth along to Brighton and Hove.
School Reporters from Hove have really got into the spirit of the torch relay - speaking not only to a relay runner, but a former, and potentially, future Olympian.
Scroll down to see what Cardinal Newman Catholic School have been reporting on from Hove.
Latest updates
1845: Another interview from the School Reporters in Hove, with Luiza speaking to Jenny from Same Sky, an arts charity which is helping to run and organise some of the events at the torch celebrations in Hove.
The workshops gives people the chance to create their own flames, while there will also be a special performance in the Sky Dome.
1837: The reporting team at Hove Park have sent in this photo of a particularly patriotic White family ready to welcome the Olympic torch to their local area.
It's union jack central in Hove park today, by the looks of things.
1805: After sending in photos of School Reporters Luiza, Lottie and Samuel, the reporting team have also been sending in some of their interviews from the torch event in Hove.
Samuel grabbed an entertaining interview with Ben Shambles, who runs the Shambolic Sideshow circus skills workshops, about his plans and "the vibe" of the day!
Local heroes
The torch relay goes through Hove today but pupils from Cardinal Newman Catholic School started reporting on this story months ago.
They interviewed Peter Witcomb of Brighton and Hove Athletics Club just hours after he found out he would be carrying the torch.
He has been running for 50 years, and told the students "It's great for me to represent Brighton."
A few months later, they caught up with Peter at a local running track.
School Reporters George and Henry also got the chance to interview Chris Carter, who competed at the 1964 Tokyo and 1968 Mexico Games and Charlie Grice, a young 800m and 1500m athlete hoping to qualify for Team GB this summer.
Reporting 2012
Pupils at Springfield Secondary in Portsmouth have created their very own day-by-day commentary of the torch relay. They keep readers updated on the whereabouts of the torch, where it's headed and even a few facts about its destination.
Six lucky students from Ditcham Park School in Petersfield will have the chance to go along for the full Olympic experience.
As part of the Get Set network, the school have been given tickets for the basketball event this August. School Reporters promise to keep us posted on this major event so remember to check back nearer the time for a full match commentary!
Lavant House School in Chichester received a special visit from British number one skier Ed Drake.
The athlete took time out from his rigorous training for the Winter Olympics to go and speak to the students about how to follow their dreams and stay motivated. One School Reporter even managed to grab a one to one interview where she asked Ed about the sacrifices he'd made for the sport.
School Reporter Rihanna from Felpham Community College in Bognor Regis have been reporting on the torch relay visting their town.
She says the relay is "enabling local communities to shine a light on the best they have to offer" and will be hugely significant for the area. She also focuses on local torchbearer, Ant Stuart, nominated for "working tirelessly" for charity and even setting up his own sports club for the charities members.
Don't forget...
The BBC's torch relay website at www.bbc.co.uk/torchrelay is the perfect place to keep across everything, watch the torch's journey continuously and get full details of the route.
For tips on reporting the Olympic torch relay, visit our special learning resource for some advice on how to cover it when it comes to your area.