Olympic torch relay: Day 53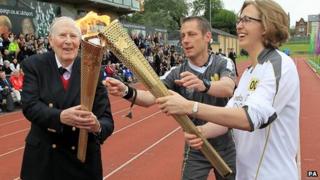 The Olympic torch is travelling through the Thames Valley today, making its way from Oxford to Reading and School Reporters will be following its story.
All the pupils at Herschel Grammar School in Slough are going to be heading out to watch the torch relay and the School Report team is planning to make a film about their day.
School Reporters along the route have also been discovering the Olympic stories happening close to home!
Students at Collingwood Collegetalked to an Olympic hopeful in their own school, and reporters from Waingels Collegecalled in on British rowers down the road from their school.
Latest updates
17:04 Breaking news from Desborough School in Maidenhead! Some students from the school were lucky enough to be at Windsor Castle this afternoon to see the torch and meet the Queen.
Torchbearer Phillip got the chance to chat with the Queen - and School Reporters are planning on doing a follow up interview with him soon!
The reporting team were at Bishom this morning to watch the torch and intend to edit a film of their day next week.
16:00 School Reporters from Herschel Grammar School have finished a busy day of reporting!
The whole school went out to watch the flame travel through Slough and Husnain interviewed the school's deputy head Mr Devereux about why he feels the Olympics are so important.
The team, which also included Pavan and Year 12 mentors Sabbha, Harpreet and Jack, filmed material for a video they are making about the torch's visit to their town.
Once the team had completed their work, there was no time to hang around - they all had to be back in lessons in time for period five!
Keep your eye on the school website as teacher Ms Sharpe says they'll be posting more images online tomorrow and editing their video.
A big well done to the whole team!
Meet Olympic hopeful Miss Parker
Olympic news fell on the doorstep of School Reporters from Collingwood College in Camberley, Surrey.
When she's not in the school gym, PE teacher Amanda Parker is training on a trampoline. She's already the world number one at synchro trampolining and was hoping to qualify for the London 2012 games.
Unfortunately, Ms Parker wasn't selected when the team was announced earlier this month.
GB rowers reveal their secrets
School Reporters from Waingels College in Reading went to Dorney Lake, near Windsor where British rowers were competing for places at the London 2012 Games during election trials.
Caitlin and Antony went to speak to the team hopefuls, and found that reaching the top in rowing requires huge levels of dedication and endless hours of training.
But they also discovered secrets away from their life on the water, and the reporters had some fun themselves.
Reporting 2012
School Reporter Lottie from Larkmead School in Abingdon got the chance to interview British paracylist Matt Plested and asked him about his greatest achievements.
Meanwhile, pupils from Trevelyan Middle School in Windsor visited Dorney Lake, the venue for Olympic rowing, Paralympic rowing and canoe sprint events this summer.
They grabbed an nterview with Terry Hunter, father of rower Mark Hunter, who will be competing as part of Team GB this summer.
Don't forget...
The BBC's torch relay website at www.bbc.co.uk/torchrelay is the perfect place to keep across everything, watch the torch's journey continuously and get full details of the route.
For tips on reporting the Olympic torch relay, visit our special learning resource for some advice on how to cover it when it comes to your area.