Olympic torch relay: Day 46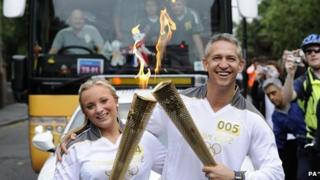 The Olympic flame will be heading towards Peterborough after setting out from Leicester this morning, and School Reporters have been reporting on the torch relay and related stories for some time already.
Former England captain turned Match of the Day presenter Gary Lineker carried the Olympic torch through his home city of Leicester and School Reporters from the West London Free School recently interviewed him about football, the Olympics and the impact the Games will have on young people.
And Gary proved an accurate tipster, having predicted that Spain would win Euro 2012!
Meanwhile, Shepshed High School talked to someone from their school who will be one of the relay runners.
And students from Thomas Deacon Academy had the chance to pay a visit to the Olympic Park.
Latest Updates
1600: Many Thanks to the Catmose College team for filing some more photos of the relay as it visited Oakham.
1320: School Reporters from Catmose College are in position to watch the Olympic torch relay in Oakham.
Sophie, 13, says: "To see the #torchrelay is a chance in a lifetime & I am looking forward to seeing it."
Running with the torch
One of the people carrying the torch today is James from Shepshed High School in Loughborough. Two School Reporters interviewed him about the achievement and found out how he was feeling.
Who nominated you and why?
My PE teacher, Mr Snutch. I think it was because I not only love sport but I like helping others get better at it too.
How did you find out that you had been chosen as a torchbearer and how did you feel?
Mr Snutch told me and then I got a letter home confirming it. I was really excited and proud to get this once-in-a-lifetime chance.
How are your parents coping after finding out you will run with the torch in Loughborough and seeing you on East Midlands Today last week?
They are as excited as I am and they keep getting me to ring my granddad to keep him up to date.
Do you want your schoolmates there to cheer you on?
That would be great but it might be a bit scary though!
Behind the scenes at the Olympic Park
London 2012 chief Lord Coe was questioned by a group of School Reporters from all over the UK as they visited the Olympic Park on News Day.
BBC Look East followed two students from Thomas Deacon Academy in Peterborough as they had a behind-the-scenes tour of the Olympic venues.
When interviewing Lord Coe the School Reporters were interested to know how the Olympics will affect their area in Peterborough.
Don't forget...
The BBC's torch relay website at www.bbc.co.uk/torchrelay is the perfect place to keep across everything, watch the torch's journey continuously and get full details of the route.
For tips on reporting the Olympic torch relay, visit our special learning resource for some advice on how to cover it when it comes to your area.