Olympic torch relay: Day 40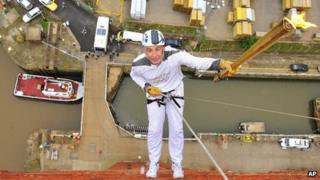 With exactly one month to go until the start of the Olympic Games, the Olympic torch is travelling from Grimsby to Lincoln.
School Reporters have been finding out about some of the people who will help it on its way, as well as investigating lots of other 2012-related stories.
Lincoln salutes Olympic torch bearer
One man who has spent the last few years helping to rebuild young people's lives and inspire them to better things has been rewarded with a perfect gift this summer.
Dan Hargreaves will be one of the Olympic torch bearers in the London 2012 relay after being nominated to represent their community by hundreds of grateful children in Lincoln.
An ecstatic Hargreaves told School Reporters Ricky and Rosie from Lincoln Castle Academy: "I love young people. They have passions, they are raw and energetic and go for their dreams."
Carrying the torch
Another set of School Reporters who have interviewed a torchbearer are the reporting team at Tollbar Academy School, who spoke toEd Holt, an ex-pupil from the school.
The 20-year-old was a keen tennis player, but developed a rare form of bone cancer which led to him having an amputation of his leg below the knee.
"I was really pleased - it's a great honour after what I've been through,£ he told the School Report team.
'Live and learn like a champion'
School Report was keen to find out how young people feel about the Olympic Games, and spoke to pupils from Lincoln Castle Academy.
They say the Games will help inspire a new generation to get involved in sport.
So what events are they excited about? Why is hosting the Games so special for the country? Watch this video to find out!
Looking forward
There is just one month to go until the London 2012 Olympic Games begin.
Isabelle and Amanda from Handsworth Grange Community Sports College in Sheffield met up with Lord Coe this week and asked him how the preparations for the Games were coming along.
Remember to email School Report HQ with your stories and reporting plans!
So if you have tickets for the Olympics or Paralympics or if your school has a special connection to the event, please do let us know.
You can find lots of advice on reporting 2012 here on our website - and we're always happy to discuss your ideas.
Don't forget...
The BBC's torch relay website at www.bbc.co.uk/torchrelay is the perfect place to keep across everything, watch the torch's journey continuously and get full details of the route.
For tips on reporting the Olympic torch relay, visit our special learning resource for some advice on how to cover it when it comes to your area.