Olympic torch relay: Day 39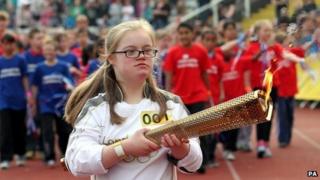 The Olympic torch makes its way through Yorkshire and the Humber today, travelling from Sheffield to Cleethorpes and once again School Reporters from places all along the route have been involved in telling the 2012 story.
The torch's journey around the UK gives the School Report team the perfect excuse to shwcase some of the great 2012-related reporting and content already produced by schools.
So read on to find how School Reporters have been reporting on the torch relay, the Olympics and everythign else to do with 2012!
School Reporters talk Olympics on 5 Live Drive
On News Day in March, School Reporters from Doncaster took over the airwaves to report on the Games.
Students from Hall Cross School in Doncaster became guest editors of BBC Radio 5 live's Drive show for the day.
Nicole and Stuart joined Peter Allen and Aasmah Mir on Drive to present their report on the 2012 Olympics.
Speaking to the chair of UK Sport, Baroness Sue Campbell, they discussed different persepctives on the Olympics - especially those held by young people outside of London.
"I'm not really excited about it. It's a long, long way to London from Doncaster," said Stuart.
And Nicole added: "Their spending millions of taxpayers' money on facilities that we don't necessarily need - it's a bit stupid really.
"I am interested because I like sport but I don't think - apart from the torch coming through Donncaster - that Doncaster is connected at all to the Olympics."
Baroness Campbell emphasised the importance of events like the School Games and National School Sport Week which are open to schools around the country, and suggested they "bang on the door" of their headteacher to get involved!
2012 Reporting
Yesterday, Isabelle and Amanda from Handsworth Grange Community College in Sheffield were busy reporting on the relay.
They even interviewed London 2012 chief Lord Coe for reports on Look North and BBC Radio Sheffield about his extra job of carrying the Olympic torch! You can check out their coverage here.
Pupils from the school have been very busy producing coverage for this summer's Games. Not only did they meet the United States Olympic diving team earlier this year but school reporters Maisie and Stefan got the chance to interview heptathlete Jessica Ennis.
Meanwhile, Pascal from All Saints Catholic High School looks at calls to merge the Olympic and Paralympic games together rather than holding separate events. He provides the facts on which countries are in favour of the idea as well as the opinion of influential names that could make or break such a deal.
School Reporters at Hall Cross School ask 'Do people really care about the Olympics?' with the majority of students answering with a defiant no! They look at ways students can become more engaged with the games and motivated to get involved. Declan,
And at Balby Carr Community Sports and Science College, Robyn and Daniel interviewed their PE teacher who believes everyone has a reason to get excited as the Olympics and torch relay is a 'great opportunity to witness an event you'll probably never see again'
Don't forget...
The BBC's torch relay website at www.bbc.co.uk/torchrelay is the perfect place to keep across everything, watch the torch's journey continuously and get full details of the route.
For tips on reporting the Olympic torch relay, visit our special learning resource for some advice on how to cover it when it comes to your area.