Olympic torch relay: Day 31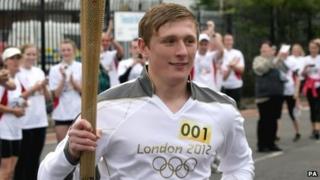 The Olympic torch continues its journey today, calling in at destinations along the north-east coast of England as it travels from Middlesbrough to Hull.
School Reporters in the area are ahead of the game when it comes to reporting on the Olympics and the torch relay, including a report on where the grass for the Olympic Stadium was grown!
And School Report has also been working with Horrible Histories author Terry Deary to tell some of the lesser-known - and "horrible" - stories of many of the places along the route, and today sees him tell the tale of Hull and a famous highwayman!
Latest updates
School Reporters from St Augustine's School in Scarborough got the chance to see the flame as it visited the Open Air Theatre in Scarborough.
The torch made a stop at the theatre, where a concert featuring local bands and some of the school's choir and music department was put on to entertain the 6,000 people present.
Listen to Niamh and Tiffany describe their excitement at being there!
A hen and a highwayman in Hull!
The people of Hull are called 'Hullensians' and many people have shared a connection to Hull over the years, including William Wilberforce.
Author Terry Deary, the man behind "Horrible Histories", knows another famous person who had a connection with Hull.
Watch him explain how highwayman Dick Turpin was arrested in Hull for a rather unexpected crime...
Pupil shares torch excitement
Tom, 12, goes to Kelvin Hall School in Hull. He told School Reporters about the honour of being chosen to carry the torch.
Who nominated you and why?
Mr Thompson - one of my PE teachers - nominated me because I play football and rugby, as well as running cross-country.
How did you find out that you had been selected as a torchbearer?
I knew that I had been nominated but I didn't find out until my mum got a phone call from school telling her I had been chosen to carry the torch.
She told me I'd got through by asking me to bring her our torch at home.
I didn't know why until she told me I'd have to get used to carrying a torch because I had been chosen as an Olympic torchbearer! I was really excited and happy.
How do you feel about being one of the youngest torchbearers?
I'm really excited to be have been chosen and I can't wait to find out where I will carrying the torch, as at the moment all I know is that it is somewhere in Hull.
What are you most looking forward to?
I just can't wait just to hold the torch and run with it. It's very exciting and a fantastic opportunity. Everyone is really pleased for me too.
Olympic grass grown in Lincolnshire
School Reporters from Hull talk to local businesses about how the Olympics are helping them.
Reporting for BBC Look North, Charlotte and John from Sirius Academy visited two businesses - Premier Interlink in East Yorkshire and County Turf in North Lincolnshire - to see how the Olympics are benefiting them.
Uncovering an Olympic link with their area, they discovered how the turf in the Olympics stadium is actually grown in North Lincolnshire.
Don't forget...
The BBC's torch relay website at www.bbc.co.uk/torchrelay is the perfect place to keep across everything, watch the torch's journey continuously and get full details of the route.
For tips on reporting the Olympic torch relay, visit our special learning resource for some advice on how to cover it when it comes to your area.