Olympic torch relay: Day 21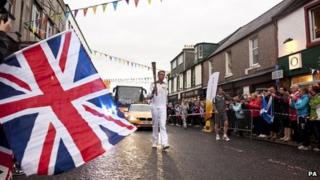 Glasgow is the destination for the Olympic torch as it reaches the end of its third week of travelling around the UK.
The torch will pass the Robert Burns Museum in Ayr, the place where Scotland's most famous poet was born, and will head on to Glasgow.
A series of choirs will welcome the flame to the city and the evening celebration will be held in George Square, where Emeli Sande and Eliza Doolittle will perform.
School Reporters from Duncanrig Secondary in Glasgow have already been busy reporting about 2012 and are even looking ahead to the Commonwealth Games in 2014, which will be held in Glasgow.
Alix and Greg interviewed Shona Robison MSP, the Minister for the Commonwealth Games and Sport, who told them about Scotland's involvement with the torch relay and the 2012 Games.
They've also talked to local torchbearers and are planning to do a live radio broadcast as the torch passes them. We are hoping to receive some pictures and updates from them later.
Latest updates
Late update! A few days after the torch passed through Glasgow, School Reporters Alix and Abby got the chance to interview torchbearer Mary Finlay on their
1840: The team has seen the torch pass! Alix tell us that "there was an amazing atmosphere in the place as the torch passed".
Despite a long day of reporting, Julia says she has had a good day: "I am buzzing after the torch relay, the choir was brilliant as was the fireworks that came from Rutherglen Library."
1740: The reporting team from Duncanrig Secondary has been filing pictures back to School Report HQ.Check out their photo gallery.
How women can hit the sports headlines
School Reporters from Woodfarm High School wanted to find out how women can make more of an impact in the sporting media.
They spoke to BBC broadcaster Rhona McLeod about how the media chooses which events to cover.
They also talked about what can be done to encourage more women to stay in sport after leaving school.
Visiting the Olympic Park
School reporters Alix and Greg from Duncanrig Secondary in Glasgow are going to report on the relay when it reaches Glasgow but they've been reporting on the build up to the Olympic and Paralympic Games for months.
In March, they went down to London to visit the Olympic Park and take part in a press conference with Lord Coe, who is in charge of organising the Games.
According to their Mr Gerrard, the teacher who accompanied them on the visit, Lord Coe was extremely impressed with the duo's reporting skills saying "they were better than normal media questions".