Olympic torch relay: Day 4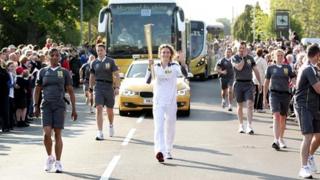 The torch travelled 108 miles through Somerset, parts of Wiltshire and up to Bristol, with 147 different torchbearers carrying the flame.
School Reporters from the area have already been already been reporting on stories related to 2012, interviewing arguably Britain's greatest ever Olympian and finding out how easy it is for young people to get involved in sport.
And we also had one of the inimitable Horrible Histories author Terry Deary's stories about some of the weird and wonderful things which have gone on in various towns along the torch relay route.
Tuesday's Horrible Histories snippet was about Bath and its dirty secret!
A 'Horrible History' of the Torch Relay: Bath
The Olympic Torch Relay passed through Bath on Wednesday, a great city with a rich history - but Terry Deary, the man behind "Horrible Histories", knows one of its dirty secrets!
Watch him explain how - long before the Romans built their baths - some muddy pigs came to the rescue of an English prince.
In the zone with Sir Steve Redgrave
This summer is going to see the best athletes in the world coming to London, however School Reporters in Bristol haven't waited for them to arrive to start reporting on the Games.
They produced a report earlier this year on a new science and sports initiative in their city
'In the Zone' is a new science project that is using the Olympics to help educate people about the science of keeping fit.
School Reporters Danielle, Jordan and Cheyenne, from Orchard School in Bristol got an exclusive interview with five-time Olympic gold medal-winning rower Sir Steve Redgrave, who helped to launch the scheme.
You can also have a look at School Report's In The Zone-inspired lesson plan for reporting on science and sport.
London 2012: Somerset pupils probe athletics facilities
Pupils from Nailsea School in Bristol investigated the access to sports facilities for young people in their area.
In stark contrast to Lord Coe's Olympic promises to get more young people into sports, two School Reporters revealed how they have to travel for miles to get to their nearest running track.
Reporting from the North Somerset Athletics Club, Maddie and Seoul highlighted the lack of facilities in their area.
Don't forget...
The BBC's torch relay website at www.bbc.co.uk/torchrelay is the perfect place to keep across everything, watch the torch's journey continuously and get full details of the route.