Olympic torch relay: Day 2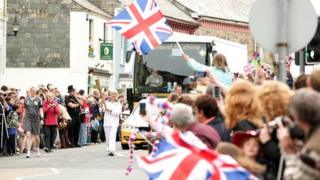 The Olympic torch relay began day two of its 70-day journey through the UK in Plymouth.
And we're also taking the opportunity to showcase some of the great 2012-related content that School Reporters in the area have already produced.
Pupils at Coombeshead Academy in Newton Abbot had a reason to be especially excited about the Olympic torch relay.
Two of their fellow students ran with the torch on Sunday. Tiegan, 14, got to carry the flame in Paignton and 17-year-old Louise ran with it in Torquay.
School Reporters Lauren, Addie and Kieran interviewed the girls after their run and found out what it was like to be part of the relay.
The team asked Louise what she would change if she could do it all again.
"I would try not to cry, and pay more attention to what was going on around me, as they were telling people why I had been nominated,' she said.
Teigan said she would slow it all down as "it was over too quickly".
Quizzing Lord Coe
Students at Sir John Hunt Community College in Plymouth have already been filing reports on the big events of 2012.
In March, two students from the school travelled to the Olympic Park in London to take part in a press conference with Lord Coe.
The pupils quizzed the London 2012 chief about the legacy that the Olympic Games would leave behind for young people.
Don't forget...
The BBC's torch relay website at www.bbc.co.uk/torchrelay is the perfect place to keep across everything, watch the torch's journey continuously and get full details of the route.
There is streaming video of the torch's progress around Devon and a map of the street by street route.
And if you want to find out what happened on Day 1 of the relay, visit the School Report Day 1 roundup page and view our picture gallery.