London 2012: Coventry pupils watch the Olympic torch being made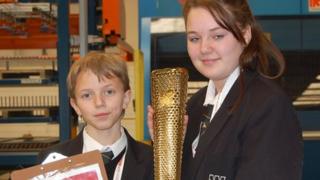 On April 23, Whitley Academy students visited Premier Sheet Metal in Coventry to see how the Olympic torch is being made.
The first thing we did was interview manufacturing director Gez Halton to ask him questions about the torch project and the legacy that the torch production will leave for Coventry.
We also asked about employment for young people.
After that we had a tour of the factory, looking at what each machine does.
We learnt how the torch is made from plain aluminium sheets and is taken to a machine which punctures 1000 holes every 54 seconds - the whole thing takes seven minutes to produce.
We saw the 8,000 circles in each torch representing the 8,000 torch bearers, and saw the torches stacked in containers in the factory.
The torch is welded together and there is an extra part of the design especially for the Paralympics so it can be attached to wheelchairs.
The torch has been in production for 18 months, 24 hours a day, five days a week. There are 50 members of staff working on delivering the torch on time.
"It's got great prestige that we can produce this work, we've a good team and we work a lot of hours," Mr Halton told Jamie.
After watching how the sheets were made into the torch, we then went to a second factory to watch them being pressed and formed into the Olympic torch shape.
We had time to watch the machines each do their own parts in the Olympic torch production and we also spoke with manufacturing director George Mollison.
"Putting 8000 holes into the blanks is a challenge for us, but it's keeping us very busy and it's great to do something for the Olympics," said Mr Mollison.
"It's been a hard day's work," said Jamie.
"I feel happy about going to Premier Sheet Metal because my dad works there and I have wanted to see the things that he does since he got the job.
"I also felt honoured because I was one of the few reporters who were able to go there.
"I felt happy when I got to hold a finished torch. I feel that it went well because the directors, Gez and George, answered my questions and were very friendly. The other journalists were very friendly as well."
"I am looking forward to making our report when we're back at school," said Chloe.
"The best parts to photograph were lasers because they are the fastest in the world. I liked the sound and look of the lasers in action because they gave off big sparks.
"I was engaged with all the machines seeing them up close and also being a part of something to do with the Olympics, especially in my home city, because I've not been part of anything like this before."
We feel glad that we've been given this opportunity to be part of something with such a high profile.
School Report is an annual BBC project which helps young people make their own news reports for a real audience.