London 2012: Watching history at the torch relay dress rehearsal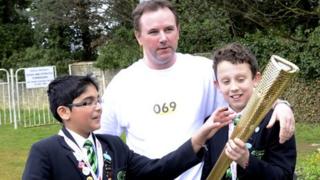 Today we students from Catmose College experienced a once in a lifetime opportunity in connection with the upcoming Olympic torch relay.
During the afternoon, after many police cars, buses, caravans and sponsorship vehicles, we finally caught a glimpse of the magical, golden Olympic Torch.
We had the chance to have our photograph taken with a torch bearer who was running from outside our school to the level crossing in Oakham.
From our point of view it was an unmissable chance to see history in the making. Seriously - we weren't just there to skip an afternoon of lessons!
We had the exposure to be lost in a world of Olympic fantasies.
After seeing various types of transport, the Olympic bus slowly made its way past us and out came the torch with its bearer.
Press and media of all sorts came rushing in, capturing pictures of the bearer including our Media Team from Catmose College.
Then it was our turn. Standing up next to the bearer was the proudest moment of our lives. But could it get better?
To cut to the chase… Yes!
We thought that this was a wonderful chance to get involved in history.
We each got to take hold and lift the Olympic torch itself! We have considered this an honour and we thank the BBC, Locog and Catmose College for this exciting opportunity.
You can see Catmose College's video report on the torch relay on their school website.