Sport Relief fever takes over at Accrington Academy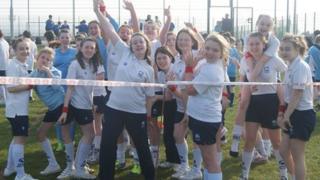 Accrington Academy has been busy supporting Sport Relief, with a variety of activities taking place across the school for charity.
The school has been raising money all week with various activities such as a school dance-off, rowing competition, bake sale, staff-versus-students rounders match and a 260-mile staff cycling challenge.
On Thursday, our school hosted the first of our three Sport Relief Miles, with the final mile on Sunday 25 March, here at the Academy.
Setting off from the school, the Accrington Academy Mile passes through the school grounds, and the final mile is set to be an incredible event - hopefully attracting around 250 people.
Amongst them will be players from Accrington Stanley FC, along with their mascot, Winstanley. Student and staff representatives from school clubs including cheerleading, football and music will also be there.
All the money raised by the public will help people living unimaginably tough lives - some right here on our doorstep, some across the rest of the UK and in impoverished countries worldwide.
To date, the school has raised more than £600 - and are we are still collecting!
Sarah Lawson (Event Organiser) said: "The Accrington Academy Mile is set to be an amazing event. It's fantastic that so many people of Accrington are gathering together to show their support for Sport Relief 2012.
"But we want this to be the best Sport Relief Mile yet - so raise your game, enter the Accrington Academy Mile today and join the rest of the nation to raise plenty of cash for an incredible cause!"
With the support of the local community, the Accrington Academy Mile promises to raise a huge amount for Sport Relief!
School Reporters from all over the UK have been reporting on what has been going on for Sport Relief in their school on News Day.
Follow the links to find out how these schools are marking the occasion:
Highfield Science Specialist School