Queen launches special Sport Relief run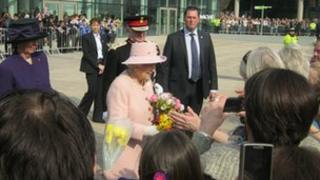 Groups of school children cheered along with the rest of the crowd as they soaked up the atmosphere and watched The Queen start a special Sport Relief Mile.
Her Royal Highness and The Duke Of Edinburgh visited MediaCityUK on Friday 23 March 2012, where they launched a BBC staff run to the sight and sound of a confetti cannon, ahead of the Sport Relief Mile on Sunday.
Dressed up as various characters, including Where's Wally, a hot dog, a nun and several clowns, more than 600 runners completed the mile.
This was all part of the Royal couple's tour of Manchester and Salford, where they also opened the new home of BBC North, unveiling two plaques, one at the studios where Match Of The Day and CBeebies are recorded, and another at Quay House, the home of BBC Sport.
In the studios, owned by Peel Holdings, they listened to the BBC staff choir and The Salford Family Orchestra.
BBC journalist David Waters, taking part in the staff mile and staff choir, said: "We were just settling in on our singing, when they stopped us and told us the mile was starting!
It is a beautiful sunny day, which it isn't always in Salford.
"Everyone's together and in such a good mood and it's great that the Queen's gracing us with her presence."
We met Linda Riding who was excited to see the Queen for the first time. She said: "I think it's amazing and I'm here just to say a big thank you, for all she's done."
Sybil Hall informed us that this was a special year for both the Queen, in her Diamond Jubilee year, and herself, celebrating her Golden wedding anniversary. She said: "It's dead exciting."
Bryan Farlow from Ramsbottom came to bask in the celebrations, explaining that since he retired 12-years-ago, he has been making stain-glass windows for schools and libraries as a hobby.
To celebrate the Jubilee, he has created a window containing 60 jewels; one for each year the Queen has been on the throne.
"I'm a Queen super-fan, I follow her around the county," he said.
We met Joan Morrissey, 78, from Burnage, who is part of the Great Britain Strictly Wheelchair Dance Group.
She is doing the Quick Step mile with her dance group and wheelchair users on Saturday and the Sport Relief Mile on Sunday and has lots of sponsors.
She's met several members of the Royal Family including Prince Philip who opened her workplace, Ferranti, in Withenshawe. She told us that the Royal family mean a lot because "my blood is as blue as a windberry, as they say".
Thomas, 10, and Mason, 11, from St Joseph's Primary School in Ordsall think that seeing the Queen today is exciting and friends and family will be pleased. They won a raffle in order to come and are excited about the 2012 Olympic football being held in Manchester.
Madeleine Fogg recollects her earliest memory of the Queen. She was two-years-old when she waved a flag when Her Majesty did a UK tour following her coronation.
We were filing real-time text updates to the BBC all morning and at 1226 GMT, Prince Philip and Queen Elizabeth departed, moving onto Manchester to continue with the celebrations.
As part of the tour, they will also meet 1,000 community champions at a garden party in Manchester.
The diamond-shaped Jubilee Garden, containing flowering fruit trees, vegetables and herbs will be dismantled and replanted in Exchange Square in time for the Olympics. It will then find a permanent home in the grounds of a Manchester school.
While the Royal couple drove away to have lunch at Manchester Town Hall with Lord Mayor of Manchester, we were invited by Director of BBC North, Peter Salmon, to join the rest of the BBC staff for a complimentary muffin and a relaxing cup of tea after a hard day's Queen spotting.
We asked a number of St Ambrose Barlow students what the Queen's visit means to them. Here's what they said:
Thomas, Year 8: "It means that we must be developing fast with MediaCity's help, as a city, to be recognised by the Queen."
Johnathan, Year 8: "I think it is a good opportunity for Salford and may get more people interested in the city. I am very proud and excited that she is visiting us."
Chris, Year 9: "I think it's fantastic because she makes Britain, Britain. She is dignified and uses her power perfectly. I'm interested in the Royal family, not just for the fact that they run the country, but for the charitable work they do."
Alison, Year 7: "It's good that she is coming here and I can see her in person. The Royal family are an inspiration to us all."
Megan, Year 8: "The Royal family are something different that separates us from other countries."
School Report is an annual BBC project which helps young people make their own news reports for a real audience.