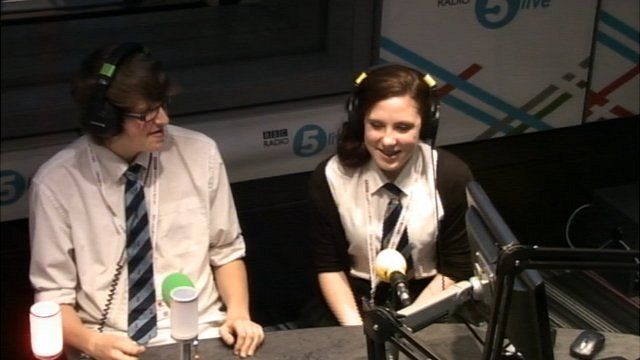 "Just keep talking until 7.00..." - filling for time on BBC Radio 5 live
20 March 2012 Last updated at 17:34 GMT
School Reporter Nicole was put on the spot as she was asked to fill for an awkward 40 seconds or so until the end on 5 Live Drive.
Nicole took to the task admirably, but it's amazing how slowly those seconds go when the pressure's on!
School Reporters from Hall Cross School were given the opportunity to edit the last half hour of Peter Allen and Aasmah Mir's Drive Show on 5 Live.
Following a story chosen by the students - about a teenager falling down a garbage chute in Atlanta - the School Reporters also learned a vital lesson about what makes a "funny" news story.
School Report is an annual BBC project which helps young people make their own news reports for a real audience.