School Report: When children take over the news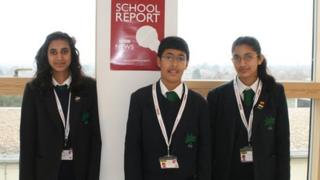 When the Education section of the BBC website asked School Reporters to explain in their own words what the project means to them, three budding journalists at Park High School in Harrow rose to the challenge.
"Teaching the techniques of journalism opens doors for English skills to be used in the real world. And that's exactly what School Report does!"
That's what Mr Walker, an English teacher at Park High School in Harrow thinks.
BBC News School Report is a project that helps students aged 11-16 make their own news. This large event involves over a thousand schools from the UK and some from around the world.
As part of the project, students are asked to prepare articles about anything that interests them. The BBC News School Report website offers a map with a link to all the schools websites where our articles will be uploaded and can be seen by the public.
The project teaches students to prepare and eventually write up or present news reports which will then be published on the annual news day, which this year is 15 March. Some will even be featured on BBC TV and radio broadcasts, such as the one o'clock news.
Queen's visit
Students are taught journalistic skills leading up to the news day. They also prepare articles, videos and interviews for their news report.
At Park High School we have been writing about preparations for the Queen's diamond jubilee.
She is visiting all the boroughs in London and will be arriving in Harrow on 29 March after also visiting Redbridge and Walthamstow on the same day. Some of our students have been lucky enough to be a part of this event through Scouts and Girl Guides.
We asked them what they would ask the Queen if they met her and whether they thought the royal family was a good idea.
Meanwhile other students talked to three of the teachers in our school who have decided to run the London marathon to raise money for Children in Crisis and St Lukes Hospice.
All school reporters at Park High have enjoyed the project.
Stephanie from Year 9 said: "I enjoyed writing news stories but never really thought there was a way to write them outside of school."
Sarah from Year 8 really liked writing about a project she is involved in.
"My story is about the Rock Challenge, a dance and drama competition which took place on 23 of February and included schools from across the country.
"The footage from the show will be included in our article which will make it exciting," she said.
Olympic Park
Twelve School Reporters from other schools around the UK interviewed David Cameron, Nick Clegg and Ed Miliband, the leaders of the UK's main political parties, whilst other students worked locally interviewing the head teacher of their school or their local MP.
Lots of schools have written reports about the London Olympics and this year children will do a live broadcast from the Olympic Park, interviewing Lord Coe from the Handball Arena.
Others have interviewed athletes such as David Carry at the Swimming test event, team GB athletes Jessica Ennis and Jennifer Pinches, and paralympic blade runner Oscar Pistorius.
The state of the economy is of interest to many schools and on 13 March two schools went to the Bank of England to interview the Governor, Sir Mervyn King, helped by BBC Business Correspondent, Jonty Bloom.
BBC tour
At Park High School, BBC News School Report started at the beginning of the new school term in January. A group of 13 students volunteered to take part.
In the first few sessions we became familiar what writing techniques journalists need to complete a successful and informative article.
We watched many videos from the BBC News School Report website, presented by journalists such as Huw Edwards and George Alagiah. Each video gave us tips on how to present ourselves and our articles. During the sessions we discussed various headlines in the news.
One of the lead stories was the sinking of the Costa Concordia Cruise Ship. We discussed what happened, why it happened, who was involved and how the information was relayed to make the audience aware of how serious it is.
To help us with writing up our articles we went to BBC Television Centre. A BBC reporter took us on a tour of the building.
We went to the BBC news room where new stories are constantly being researched and articles written up. The stories from the newsroom end up on the radio, television and the website.
Next we saw how videos are edited and how much work is put into one story.
Mustafa from Year 9 said: "It helped me to understand how much work goes on from behind the scenes for one short clip."
Our final part of the tour was when we saw BBC Breakfast being filmed. It was amazing seeing how the news goes from the studio to our televisions.
Overall, it was a great day and gave us all a real insight into what it is like to be a reporter for BBC.