Reporting News Day around the world
15 March 2012

From the section

Home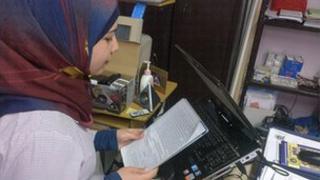 Students from more than 120 schools in countries all over the world took part in School Report 2012.
Pupils from India, Rwanda, Poland, Serbia, Bulgaria, Uganda, Lebanon, Senegal, Ukraine and Malawi were linked to schools in the UK through the British Council's Connecting Classrooms partnership.
The schools joined more than 1,000 UK schools, working to a strict deadline to publish their news stories.
Students aged between 11 and 16 in participating schools worked together to set their news agenda and publish the stories that are important to them in their own words.
The project aims to engage young people who have an interest in news and international current affairs, to hear young people's voices and stories, and encourage them to think about the ethics of news-making.
Here are some of the stories they have been reporting on this week:
Lebanon
Meriam, Firas and Faten, all aged 16, from the National Evangelical Institute for Boys and Girls in Saida, reported on a series of big news events.
Firas focused on Cypriot football team Apoel Nicosia's "unbelievable" defeat of Lyon to reach football's Champions League quarter-finals.
He said young people across the Mediterranean in Lebanon were thrilled that a team from their region had got so far in the competition.
The reporters picked two stories about food and drink: Pepsi and Coca-Cola having to change their manufacturing processes to avoid having to put cancer warnings on bottles.
And Faten reported on worries about imported food from Japan being irradiated.
Students from Central College Jounieh reported on a very serious issue facing many cities around the world - homes and buildings that are in a state of disrepair and at risk of collapse.
India
Reporters from 88 schools all over India took part part this year. They have tackled some very difficult subjects. Students from PBSS Nungambakkam School in Chennai investigated maritime piracy.
Bal Bharti school reporters in New Delhi produced a report about child labour.
While much has been done to stop children working in factories and so-called sweatshops, some school-aged children are employed as domestic workers.
Reporter Adiya interviewed a boy who was working as a cleaner; he told her he was 15, although she thought he looked much younger.
Reporters from St Thomas Girls School in Kolkata reported on a new law which will make all schools in India accessible for disabled children by 2020.
Special provision will be given for talking textbooks for children who are blind or partially sighted.
New Era Sen Secondary School in New Delhi reported on the rise of English language speakers globally. With a 40% increase over the past 20 years, students carried out interviews gauging opinion on this global phenomenon and question what this means for Indian schools.
Bulgaria
Tisha and Desi at the Foreign Language High School in Stara Zagora reported on the Anti-Counterfeiting Trade Agreement (Acta) report which may restrict file-sharing and internet access.
Teenagers in Bulgaria feel very strongly about this issue, and have even taken part in street protests about Acta. They want to make sure that they still have freedom on the internet.
The pupils also looked at Lady Gaga's plans to perform in the country's capital, Sofia.
Serbia
Students at Gimnazia Pirot school report from Pirot.
Urosh, 16, reported on Serbia's bid to become a member of the EU.
Djordje focused on the Serbian entry for the Eurovision Song Contest and the debate on whether to sing in Serbian or English.
Uganda
Reporter Arnold, 16, from St Kizito SS Bugolobi school in Kampala, reported on the reaction of people in Uganda to the Kony 2012 campaign and video, which has gone viral.
Hillary, also 16, gave her reaction to a speech from the President, Yoweri Museveni, who thinks sex education should be removed from the school curriculum.
And Yunis, 15, looked at the efforts to outlaw female genital mutilation.
Rwanda
School reporters, Patrick, Philbert, Derrick and Barbara of Rukomo Secondary School in Nyagatare, made a report about the absence of music in the school curriculum.
The DEO, District Education Officer, Martin Hakizimana said 'We do have music in our curriculum but not as a music lesson - we teach it in extra curricular activities'. He went on to say, 'next year we shall see whether we can put it on our curriculum'.
If you want to read more reports from some of the 120 schools in Rwanda, Uganda, Serbia, Ukraine, Malawi, Poland, Senegal, Lebanon, Serbia and Bulgaria visit the British Council's Connecting Classrooms website.
School Report is an annual BBC project which helps young people make their own news reports for a real audience.