Duchess of Cambridge shines on visit to Oxford Spires Academy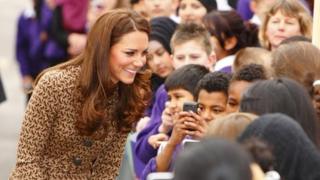 I was so excited when I heard that The Duchess of Cambridge, was to visit our academy.
The days leading up to her visit passed by very slowly, and I was waiting with much anticipation and excitement.
I was especially excited because I had been chosen to receive a 'golden ticket'. This meant that I would be one of very few people reserved a place at the front of the crowd.
When the day itself finally arrived, we had to wait outside for quite a while. The atmosphere was electric, with everyone waving specially made flags and banners and smiling.
After a long wait, the duchess arrived, and everyone started cheering. I held my camera in one hand, along with the union flag I wanted to wave as she passed.
Then, suddenly, there she was: the duchess, walking gracefully down the pathway.
We were so eager to speak to her and shake her hand, we couldn't believe it when she spoke to us!
I complimented the duchess. "Oh my gosh, you're so pretty," I said, and she smiled. I'm not sure if she heard me or whether she didn't quite know what to say back!
"What house are you in?" asked the duchess. My friend replied "Year 10" as she was nervous, but my other friend corrected her and told the duchess they were in Earhart House.
The duchess mentioned how it was cold outside and that we must have been waiting a while. We agreed and I said: "It's freezing!"
Then we said our goodbyes, and she carried on with her journey.
It was such an amazing experience for me, and for the school. So many people were talking about her nicely after she left.
She had such a positive impact on the school. What I also loved about the day is that everyone looked so happy and excited, and we're still buzzing now.
The duchess leaves an impression
"She was just like a normal person. She spoke normally and when she waved it was not a royal wave. She is very pretty."
Donte, Year 7
"I was very nervous. She said she liked my clock. She is a very nice person. When I went home and told my nan about it, she cried."
Milly, Year 7
"I was very nervous and excited. Speaking in front of a table of 12 people including the duchess with lots of cameras pointing at me gave me butterflies. The duchess saying she liked my art work made me feel very happy."
Leem
"I'm really grateful she came in; she was amazing. We even put a picture in the house."
Yeliz, Year 10
"She is so graceful and elegant... like a princess!"
Grace, Year 10