Politicians set to be pressed by School Reporters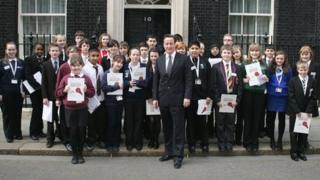 The young journalists who take part in School Report have seldom been shy of taking heavyweight figures to task and 2012 will be no exception.
This year, the theme of School Report's political interviews is young people and their future and School Report is working with Radio 4's flagship lunchtime news programme The World at One to bring the interviews with party leaders to an even wider audience.
The interviews will build on the work done by School Reporters in previous years. In 2011, Prime Minister David Cameron and Labour leader Ed Miliband took questions from students from around the UK in the style of press conferences.
Political issues
Twelve students from six schools around the UK will come together as a team in London on 8 March to talk to leaders in Westminster, while three more teams will press leaders in Scotland, Wales and Northern Ireland.
The students have been working hard in their schools, with the help of BBC masterclasses and workshops, to come up with their questions.
They will be representing students at more than 1,000 schools participating in School Report in 2012.
School Report works with schools across the UK to help 11 to 16-year-olds make and broadcast their own news.
In March, schools take part in an annual News Day - this year's is on Thursday 15 March - simultaneously creating their news reports and publishing them on a school website.
School Reporters' engagement with political issues does not stop at interviewing political leaders.
At many of the schools taking part in the project, local MPs and councillors are also called upon to give their views on a huge range of topics.