School Report goes mobile!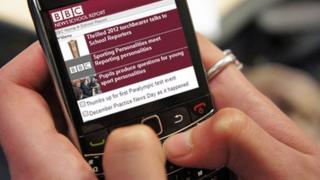 There's a new way for students to brush up their reporting skills: School Report's handy pocket guides, accessible from our new mobile site - www.bbc.co.uk/schoolreport/mobile.
It's optimised to work on most mobile devices and contains all our top stories and teacher resources.
And we have also created some special miniature guides for the mobile site to give students top tips on the essentials of journalism that they can use when they are out and about.
One way that School Reporters can access the guides is by scanning our specially created QR codes with their smartphone.
These tiny chequered squares look and work in a similar way to supermarket barcodes, and, when scanned, will take the user to the relevant guide.
The QR ("Quick Response") codes are already used on millions of products, and there are free apps available across all smartphone brands.
Many students will be familiar with them, and it's easy to get set up to use them.
To help you get started, we've produced this worksheet, with a layout designed to allow each code to be printed onto individual stickers.
Worksheet: School Report pocket guides with QR codes
[353 KB]
The stickers have a number of creative possibilities. One option is to apply them to the relevant bits of kit - for example, the guide to filming could be stuck to a camera.
The sheet also doubles up as a classroom handout.
The guides are numbered, giving students an opportunity to collect the series - so give it a go!