London 2012: Music Nation 'echoes' UK unity in Salford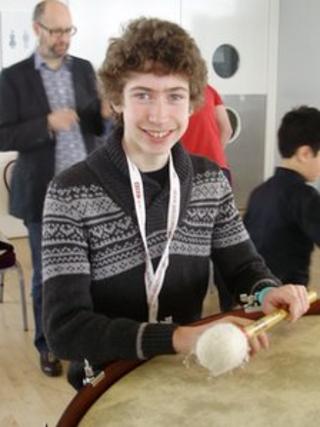 Families, communities, cities and buildings were united as amateur and professional musicians came together as part of the BBC's Music Nation festival.
I've been involved with the orchestra for one month and for this event I've been to about four rehearsals.
Knowing that there are about 100 orchestras as part of this big event feels absolutely amazing. I'm really excited about it.
It's quite nerve-wracking, playing with two other orchestras that you can't even see - very nerve-wracking, in fact - but you get used to it. The most challenging thing is to get things right and remember them.
I watched the orchestra last year and my brother was in it so I decided to go for it this year.
All my family are involved. My brother Ben plays the trumpet, my dad plays the piano and my mum's into singing at the moment.
I really like learning something new, it's nice to meet new friends and try something you haven't done before.
Fraser Trainer is our conductor. He told me that each orchestra has based their music on ideas they've drawn from the building they're in.
At the Imperial War Museum North, they've been working with ideas of fire, air, earth and water. Here at the Lowry, our music is based around the painter's art.
Fraser said: "It's really exciting to play when you're performing with a large group of people and you're playing your own music.
"The music that we've made is challenging, it's something we can only all realise when we're all working together.
"I'm enjoying the links between the music we've made, hearing the responses and seeing the reactions in people's faces as the whole project comes together."
Fraser explained that the music was composed to celebrate the cultural festival around the Olympics coming to the UK.
He added: "Music Nation is a wonderful event bringing people together of different backgrounds, different musical experiences and different ages."
In our orchestra, the youngest person is aged four and the oldest is 80. We've been performing with loads of people. It was really good, I was excited about it and we did very well.
The BBC Philharmonic's 'Echoes': a celebration of Salford Quays is tied in with Music Nation and took place in Manchester on 3-4 March 2012 as part of the Cultural Olympiad celebrations.