Teacher resources: School Report's guide to Olympic rights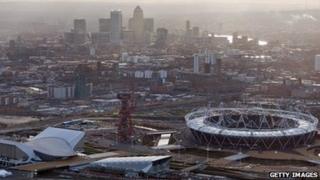 Photographs and sports footage can be a tricky area for journalists when it comes to copyright.
Many schools will want to produce stories relating to London 2012, the Olympics and the Paralympics this year - but you cannot just use any photos, logos or other material that you like.
There are strict rules in place to restrict the use of logos such as the Olympic rings - so, to simplify the process for you and your students, we've developed a guide to what you can and can't do.
And at the bottom of the page are a series of photos which you can use in your reports.
1. You MUST NOT use logos of the Olympic rings, the Paralympic logo or London 2012 logo.
Use of these famous logos is strictly limited by Locog (the London Organising Committee of the Olympic Games) and the International Olympic Committee (IOC) and has not been approved for use by schools.
Schools which are in the London 2012 Get Set Network are permitted to use special assets in certain situations and will be aware of the restrictions on these logos.
The only people entitled to use the London 2012 brand and the Protected Games' Marks are Locog, its sponsors and official broadcasters, official merchandise licensees and licensed non-commercial organisations.
2. You MUST NOT use or broadcast video or audio footage of previous Olympic or Paralympic Games or London 2012.
3. If you are attending an event make sure you stick to the relevant terms and conditions - for example these are the Terms and Conditions for the sale of all Tickets to the London 2012 Games.
4. Locog has kindly agreed that you may use the photos from their database for School Report purposes only. The database can be found here.
5. You can only use photos which have appeared on the pages of the BBC News website (not BBC Sport, Newsround or any other part of BBC Online) which have one of the following credits: AP/PA/AFP/Getty Images/Reuters
If you crop the photo you must reinstate the credit.
To save you trawling through the hundreds of stories written about the Olympics and London 2012, we have brought together several pictures which you CAN use. We give you permission to use these photos for the purposes of BBC News School Report ONLY.
And remember: the best way to ensure that you are not breaching copyright is to take your own photos!