ITTE praises School Report for teacher-training benefits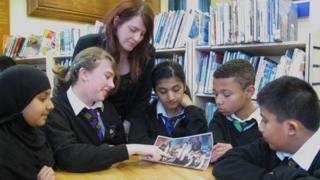 Trainee teachers experience a "positive effect" on their development when they work on the BBC News School Report project, according to a new study.
The evaluation stated that working on the BBC's journalism project for 11 to 16-year-olds as part of a teacher training scheme "enhanced trainees' professional identity in their own eyes and in the eyes of the department in which they worked".
Representatives from the Open and De Montford Universities analysed detailed case studies of those on Initial Teaching Training (ITT) schemes working with School Report, and found that "the trainees' knowledge of the curriculum was enhanced".
The report also noted how working on the project led to "interactions with pupils taking on more diverse forms… particularly in respect of behaviour management".
The report was conducted by the Association For IT in Teacher Education (ITTE) on behalf of the Training and Development Agency for Schools (TDA), the governmental arm of teaching development.
It was the third time ITTE had conducted such an evaluation, but the first time a more detailed "case study" approach had been used. The report drew on feedback from trainees, teachers, School Report mentors and others involved in the project.
Report in full: 2011 ITTE Evaluation of BBC News School Report project
[433 KB]
School Report has been running for six years and now involves more than 1000 secondary schools across the UK.