Who does what in an online news team?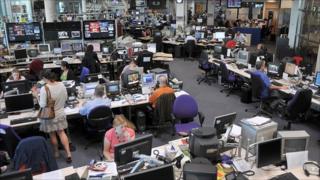 Producing news content for websites requires a closely co-ordinated team with a variety of important ediotrial and production roles.
When your reporting team is working on School Report, it's a good idea to think about which members of the team would be suited to different roles.
It's important to remember that all the roles are important! The editor might make a big decision about what stories to cover, but if the reporters don't complete a story or the photographer forgets to take the right pictures, the whole thing starts to go wrong!
You can also find more in-depth guides and tips in the links alongside the roles.
Key roles in online journalism
Editors have overall charge of the content, and have the final say on important decisions about what stories to cover and how to cover them.
They are usually experienced and confident journalists with an overarching view of all the output, and will often decide which journalists get to write particular stories.
Live reporters are responsible for live pages, where short updates are added as an event unfolds - an increasingly important part of online journalism, and one of the main advantages the medium has over traditional newspapers.
They need to be able to follow complicated events as they happen and make sense of them for readers. They need to be accurate writers with a flair for keeping readers engaged.
Multimedia editors oversee another increasingly important part of online reporting: the use of video and audio material to help bring stories to life and show off interviews and other material.
Sometimes interviews can be lengthy affairs and few people want to sit through every last second, so editing the best answers is a key skill.
Multimedia editors need to have the technical know-how to edit the material, but also some editorial sense of what the best answers are.
A picture editor knows good photos and graphics are a key part of online reporting, as they help grab readers' attention and illustrate the story. The old saying "a picture's worth 1000 words" is just as true in the digital age as in traditional newspapers.
Picture editors select the best images available to accompany each story, and crop and edit them to make them as clear and attractive as possible. Some expertise with photo editing software is very useful and a good eye for a striking image are key skills for this role.
Photographers provide great pictures for web pages; a key part of the process. Photographers will gather all the best shots on location and need an appreciation of the sort of image that works well on the web. Just as with the picture editor, creativity and an eye for a strong image, are important attributes.
The planning producer is a vital part of any newsroom. They help ensure the editors and journalists know what stories are coming up and who will be covering them. While a lot of stories appear out of the blue, many are predictable events that can be planned for.
Stories such as the Budget, elections or anniversaries can all be "in the diary" well ahead of when they happen, giving reporting teams the chance to prepare their reporting more fully and gather material in advance.
Reporters/writers are the people who actually write the stories. This involves researching the story, sometimes conducting interviews and then writing what they have learned into a story, which will inform the reader as much as possible.
They are often experts in their field, but many journalists are general reporters who have to turn their hand to whatever is in the news that day!
Reporters need to be good communicators, getting to the point of the story as quickly as possile, and to ensure everything they write is fair, accurate and balanced.
The section editor looks after a particular part of the output, such as sport or entertainment. They'll usually make the final call on stories in their area, but will refer up to their editor when necessary.
They need to be an expert in their field and able to help resolve issues as they happen, and make tricky editorial decisions.
Sub-editors check the work produced by journalists and writers and make sure the final story that the reader sees is as good as possible - a frequently under-rated skill.
This involves correcting factual, spelling and grammatical errors, but also help to come up with the best headlines and most exciting intros, to draw readers in.
They also need to be alive to possible legal issues such as libel and contempt of court and make sure the story is as clear as possible.