BBC News School Report: Frequently asked questions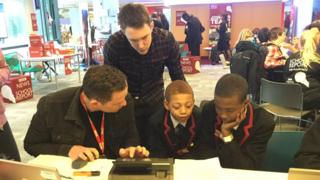 To help you find out more about BBC News School Report and how you can get involved, we've prepared answers to some FAQs.
WHAT IS THE AIM?
The main aim of BBC News School Report is to interest young people in news of all sorts, and the world around them, by giving them the chance to make their own news.
It is also an opportunity for students to inform a real audience, via BBC programmes and web pages, about the stories which are important to them.
HOW DO THE STUDENTS BENEFIT?
Many teachers have said that taking part in School Report supports all sorts of learning - for instance by helping students develop their ability to work in teams, manage their time, conduct independent enquiries, communicate effectively and think critically.
It is also a chance for students to discuss the responsibilities involved in broadcasting their work to a worldwide audience.
WHO CAN TAKE PART IN SCHOOL REPORT?
UK students aged 11-16, and in the Year Groups indicated by the table below, are eligible to take part in School Report.
Older students may contribute to the project by mentoring 11 to 16-year-olds and there are some supporting resources on this website.
Schools may, of course, use the resources on this website with students of any age, but the BBC will only feature news made by 11 to 16-year-olds.
HOW MANY STUDENTS CAN TAKE PART?
This is entirely up to each school although the BBC would like to encourage as many students as possible to be involved. Some teachers have run activities with a whole year group, others with a class and some with a handful of students.
WHAT EQUIPMENT DO SCHOOLS NEED?
The equipment required depends on how each school chooses to broadcast the news. A simple way of taking part - which requires a computer and a school website - is to publish a text-based article on the school website on School Report News Day.
Schools which decide to make audio or video news will need additional equipment. Some schools are working with partner organisations such as City Learning Centres or specialist media schools, which can provide technical help and support.
However, the project is designed so that schools are able to use the resources they already have.
The focus of any help from BBC staff will be journalism, although depending on their field of expertise, they may be able to give practical advice. The BBC will not be able to supply equipment.
WHAT HELP IS AVAILABLE FOR TEACHERS?
Teachers are encouraged to use resources on this website to help their students hone their journalistic skills.
The core resource is a series of one-hour lesson plans, which explains the six-step newsmaking process. Among the plans are some short videos in which the BBC's Huw Edwards shares his advice. Other resources are also available for teachers to adapt and use.
DO STUDENTS HAVE TO DO EVERYTHING THEMSELVES?
The essence of School Report is that it is editorially led by the young people, i.e. they make reports on the things that matter to them. However they can be given different levels of support to achieve this. For instance, in some schools editing is done by staff and in others by the pupils. Items broadcast on BBC programmes will usually have been produced with some support of BBC staff.
CAN SCHOOLS OUTSIDE THE UK TAKE PART?
BBC News School Report has developed as a licence fee-funded project almost exclusively for UK schools and is not currently open to international schools.
However, for News Day 2015, the BBC extended the project to four international schools selected by the corporation. This was repeated in 2016 but open access recruitment remains as an opportunity for UK schools only.
WHAT CHILD PROTECTION MEASURES DOES THE BBC HAVE IN PLACE?
The School Report team takes child protection very seriously. Schools must ensure that students who appear on their news reports have parental permission to take part in the project. Only students' first names can be used.
All BBC mentors advising individual schools have a basic criminal record disclosure and undertake training in accordance with the BBC's guidelines on child protection. We ask that schools always ensure BBC staff are accompanied.
WHAT DO PARTICIPATING SCHOOLS HAVE TO DO?
Join our mailing list to receive regular emails about the project. You only need to complete this stage once to be on our database, so if you are already receiving emails from us you don't need to fill in this form again.
Return the Head Teacher Partnership Agreement (Form 1) as soon as possible to tell us that you are taking part in the project. This entitles you to use unique School Report branding, to appear on the School Report map, be offered reporting opportunities, to take part in Practice News Days and receive advice from BBC members of staff, either by phone, email or sometimes in person.
Prepare a dedicated web page for your students' news on your school website and send us the link. We will then link to it from the School Report map.
News Day! Arrange for a news-making activity to take place in your school on 16 March 2017.
HOW CAN I CONTACT THE SCHOOL REPORT TEAM?
Please use the mailing list page and a member of the School Report team will contact you with information about how to take part.
You can also get in touch via email at schoolreport@bbc.co.uk
WHY DOES THE BBC RUN SCHOOL REPORT?
The project aims to give young people from across the UK the chance to make their own news to real deadlines and broadcast it to real audiences. School Report helps to fulfil one of the BBC Charter's pledges to "sustain citizenship and civil society":
by engaging young people with news
by bringing their voices and stories to a wider audience
by sharing some of the public service values behind content creation, such as fairness, accuracy, and impartiality since so many young people are content creators and distributors.