School Report: Practical Tips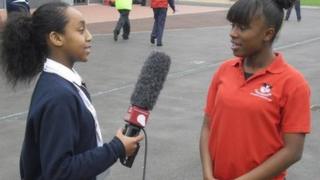 The resources on these pages are designed to provide you with practical tips to help turn your students into journalists!
We have picked out some of the key material for you on this page, but for the extra keen the website has a wealth of guides, videos and other resources to explain everything you ever wanted to know about journalism.
MAKING VIDEO AND RADIO
Creating video reports can be a great way for pupils to tell their stories.
You can get some top tips from video journalists and camera professionals to learn all the various tricks of the trade to make your reports look great. Also, why not make your own autocue!
If you have decided to make radio reports, our handy guide, written by experienced BBC reporter Karen Hoggan, has everything there is to know on how pupils can create a good package for radio.
Pieces to camera
Your audience wants to know the reporter is where the story is happening, so a piece to camera (or PTC as it is often shortened to) is often used on location to demonstrate this.
It might look like it's just standing in front of a camera and talking - but there's more to it than that!
BBC environment and science correspondent David Shukman explains some of the key issues to think about and offers his tips in this video on the BBC's College of Journalism's website.
Sounding good on radio
Speaking clearly is particularly important for radio journalists.
BBC Radio 4 announcer Chris Aldridge offers his advice on sounding great on the radio in this video from the BBC College of Production.
Writing an "OOV"
An OOV is a bit of TV jargon that stands for "out of vision" - and it's pronounced just as you'd think! Writing an OOV means writing a short script that the newsreader or presenter will read to accompany a sequence of a few video shots.
In this video, Simon Waldman, a former senior editor on the BBC News Channel, shares his top tips.
Writing headlines
A good headline and introduction is essential to engage the audience.
In this video, BBC presenter Sian Williams explains how to go about it.
WRITING FOR THE WEB
Writing for a website is very different from writing for radio and television - and it's even different from writing for a newspaper.
People don't read web stories in the same way they read newspapers. You need to remember how easy it is for any user to click away from your story to something they're more interested in.
These tips will help you make the most of your reporting online.
How to take photos for the web
For online reports, good photos can often make a huge difference to the story, bringing articles to life and illustrating exactly what is going on as well as attracting a reader's attention.
The old adage that "a picture is worth a thousand words" still holds in the digital age, so find out how to take great photos for the web.
Writing live pages for news
One way of covering big events on the internet is with a page of live updates. This is a great way of getting lots of information across in small bite-sized chunks and is especially useful in a fast-moving or breaking news story.
They can be the perfect way to cover everything that's going on in your school on News Day on 21 March.
The BBC website uses them regularly for the latest sporting updates, and live event pages are just as suitable for news events. This guide sets out top tips for running a live page.
Getting your stories noticed on the web
Millions of people use the internet to read the news, and it's a very competitive market to get people to read your stories as opposed to any others.
That means you have to think about "search engine optimisation" - or SEO as the modern jargon abbreviates it.
Put simply, this means putting words in the headline that search engines, like Google, will find and put at the top of the list, meaning your story is seen first. Here are some of the golden rules which will help your stories attract more readers.
Sub-editing
It's always advisable to have at least two pairs of eyes to look at a piece of work before it hits the web or goes to air. It means that mistakes are much more likely to get spotted before it's too late.
In a newsroom, this is normally the the job of the sub-editor. They do the "subbing" of everyone's work to double-check it and ensure it makes sense, tells the story properly and doesn't fall foul of any legal issues such as libel.
Read this guide to subbing and why not have a go at our activity to test your subbing skills?
SPORT REPORTING
From commentating on live action to writing match reports and live pages, being a sports journalist is a dream job for many people, so check out these resources for some top tips.
Speaking to sports people
There is no "official" route to follow when it comes to tracking down an athlete or sportsperson. You will probably have to try different approaches, just as professional journalists do in real life.
It may well take a bit of research, a lot of perseverance - and a spot of luck never goes amiss either! Remember that it's not just about big names - don't overlook the exciting up-and-coming athlete in your local area
Take a look at this guide to give you some practical tips to start finding your targets.
Sports commentary
BBC commentator Jonathan Pearce has covered five World Cup tournaments and numerous England games and FA Cup finals, as well as regularly appearing on Match of the Day and BBC Radio 5 live.
He passed on some of his top tips to School Reporters from JFS School in London, and gave them a chance to commentate on some of the key incidents from the 2006 World Cup final!
For more tips to help you become an expert commentator, watch this video, who has been commentating for more than 40 years.
Writing a sports match report
Watching sport and writing about it is a dream job for many people.
But how do you write a really good report which tells the story of the match and really makes the reader feel like they were there?
There's lots of different ways of going about it, but this guide provides some general rules about the art of writing a match report.
Reporting on disability sport
Disability is often a sensitive issue and, over the years, the way we talk about and address disabled people has drastically changed.
When writing about disability it is important to always be respectful. The vital thing to remember is to treat disabled athletes with the same respect as you would non-disabled athletes.
The fundamental rule should always be: Sport first, Disability second.
Use guide is full of practical advice for covering disability sport in the same way as any other sport, and for avoiding out-of-date or disrespectful terms in your coverage.
Writing live text commentary
One way of telling the story of an event is through a live text commentary, where updates are published as quickly as possible to provide all the latest news as soon as it happens.
They are particularly useful in ongoing stories where lots of information is coming in quickly, and in sport. But it is not as simple as just turning up and writing whatever happens!
BBC Sport journalist Chris Bevan, who has written live text commentaries on events such as the Tour de France, Wimbledon and World Cup football, provides his top tips for producing an engaging live text commentary.
GENERAL RESOURCES
Research
Comprehensive research is the key to preparing an accurate news story or interview. Check out our top tips for researching stories.
Make sure you talk to the right people who can provide you with useful information, browse relevant internet sites and carefully make use of information on social media.
Staying safe and legal
One of the key responsibilities that comes with making the news and broadcasting is to ensure you stay the right side of the law. So issues like copyright, libel and contempt of court are important to be aware of when you are writing your stories.
This simple guide tells you what you need to know when it comes to media law.
How to interview over the phone
It's usually best to do an interview face-to-face but sometimes your interviewee is just too far away or your deadline is just too close!
So, it can often be most practical to do an interview on the phone. You don't get to meet the person at the other end, but at least you're ready to go on air or publish our story on time.
Getting celebrities involved
Generally we find that celebrities - or their agents - are more likely to respond to direct requests from schools and students rather than from the School Report team.
Many schools have found great success in persuading celebrities, politicians and other high-profile people to be interviewed.
This guide explains some of the starting points for getting hold of the people you would like to interview.
Using statistics
School Report joined forces with SportAtSchool, a project that gives schools access to real data that can be used in the classroom.
Students from participating schools can complete a simple questionnaire about sport and exercise, and their answers become part of a UK-wide data bank.
This lesson plan will help your students use their data to create a statistics-based report.
Using Twitter safely
Although tweets are a maximum of just 140 characters long, the impact of the social media website on journalism has been huge. Lots of journalists now use Twitter as a newsgathering tool.
However, if you want to use Twitter as part of your journalistic research during the course of School Report, you should think very carefully about safety issues and the age restrictions in place on Twitter.
Just like websites such as YouTube and Facebook, Twitter is aimed at people who are over 13. Within Twitter's pages on privacy is a section on their policy "towards children" which says "our services are not directed to persons under 13 [...] we do not knowingly collect personal information from children under 13."
Any use of Twitter or social media for School Report purposes should comply with your school's social media policy, and we strongly recommend it is done in a supervised capacity. Take a look at School Report's guide to using Twitter. We also have a Twitter quiz.
Life in the TV, radio and online newsrooms
This guide to common comprehensive guide to common roles in TV, radio and online newsrooms - will be useful if you're trying to create a newsroom experience in your own school and if you're looking to allocate specific roles to individual pupils.
There is also a glossary of common media terms so you can keep up with journalistic jargon!
Virtual BBC newsroom for blue/green screens
If you have access to a green or blue screen facility, you can ask the School Report team to send you some newsroom backdrops to use in your bulletins.
Look at the images in this gallery and contact the School Report team by email on schoolreport@bbc.co.uk if you would like to receive the images to use at your school.