Lesson 2: Gathering news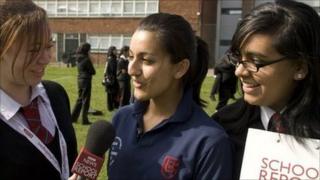 THIS PAGE HAS NOW BEEN UPDATED - YOU CAN FIND THE NEW VERSION HERE
LESSON 2: GATHERING NEWS
This lesson explains how to gather news - including the art of conducting good interviews.
We also have a pick and mix section where teachers can pick out resources to create bespoke lessons for their pupils.
And the special Teacher Essentials section includes lots of extra information and advanced resources.
Please note: this lesson is designed to run for an hour, but all timings (except for video durations) are approximate and can be expanded or reduced if necessary.
OBJECTIVES
•To develop research techniques •To understand the importance of open questions •To understand a journalist's impartiality •To understand the difference between fact and opinion
OVERVIEW AND RESOURCES
ACTIVITIES
Video: Gathering news (2 mins 30 secs video + 2-3 mins to recap/discuss)
BBC newsreader Huw Edwards explain the 5 W's - Who, What, Why, Where and When - of newsgathering. And don't forget How!
Finding the answers to these questions is the basis of all journalism so once you've got a grasp of that you're well on your way!
You can recap the key points from the video with this accompanying worksheet, or read a transcript of the video:
Key points: Gathering news
[26.26]
Transcript: Gathering news
[22.93]
A Welsh language version of the video is also available, together with a transcript.
--------------------------------------------------------------------------------------------
Activity: Open and closed questions (15 mins)
Huw Edwards talked about the 5 W's (and How). One of the crucial things to think about when interviewing is the difference between "open" questions and "closed" questions.
This activity will help demonstrate the importance of choosing the right questions.
Work in pairs.
A asks B the following questions:
1. Do you like school?
2. Do you meet your friends during break?
3. Is homework set every day?
4. Do you eat school dinners?
-----------------------------------------------
5. What do you like about school?
6. What do you do during break-time?
7. How much homework do you receive?
8. What do you think of school dinners?
Now, as a pair, answer this question: Which questions generated the best answers? Why do you think that was?
Closed questions often prompt the short response "Yes" or "No". Open questions are usually preferred by journalists because they encourage people to give more information.
Open questions are also known as 'W' questions because they usually begin with What, Who, Where, When, Why - and How.
Another top tip which will make life a lot easier when it comes to editing your material is to try to get your interviewee to include the question in their answer.
Often when journalists put together a report, the interviewer's questions are edited out - to save time and to make the report seem more natural.
Imagine the difference between hearing: "They're great, apart from we only have chips on Friday!" and "I think school dinners are great, except that we only have chips on Friday!" The second answer tells you everything, whereas the first one leaves you wondering.
This time B, ask A questions 5 to 8.
A, you must include the "question in your answer", so that it stands alone, without the question.
Now, pick a topic to interview each other about. Take it in turns to ask each other as many open questions as you can in a minute.
Under pressure, it's not always easy to avoid closed questions!
--------------------------------------------------------------------------------------------
Video: Interviewing masterclass (4 mins video + 2-3 mins to recap/discuss)
Radio 1 Newsbeat reporter Natalie Jamieson explains how you can get the most out of your interviews and shares her top tips.
Interviewing is one of the key skills in journalism, giving reporters the chance to put the questions they want answered to the people at the centre of the story.
Thorough research will help you get to grips with an interviewee.
If you have a good idea about their beliefs and achievements before talking to them, you have a much better chance of getting an interesting reaction from them, rather than asking the questions they've answered hundreds of times before.
Key points: Interviewing masterclass
[26]
Transcript: Interviewing masterclass
[26.5]
It also flatters people to know that you've taken the trouble to find out about them! They might be more inclined to open up to you!
This guide from the BBC's College of Journalism helps point you in the right direction when it comes to thinking about how to research your interviewees.
--------------------------------------------------------------------------------------------
Activity: Research and writing questions (25 mins)
Imagine your editor has asked you to do some background research about your local MP or a sports person of your choosing in preparation for an interview. Spend the next 20 minutes looking online for information.
When using a search engine, remember to use quotation marks around their name eg "David Beckham" or "Usain Bolt". This will help narrow down your search results.
Bookmark your most interesting and relevant results so you can return to them again. If you don't know how to do this, ask your teacher.
Include an advanced search for news about them on bbc.co.uk within the last month. This will help to uncover any recent news involving the subject and might prompt ideas for new lines of enquiry.
Now, based on the information you have found, compose five open questions for your local MP or sports person. They should add to the background research you have just done, not give you the same answers.
Rank the questions in the order you would ask them.
Remember, you may not have enough time to ask them all, and that it will often put your guest at ease to start with an easier question.
--------------------------------------------------------------------------------------------
Quiz: Gathering news (10 mins)
This multiple-choice quiz is designed to test your knowledge of how newsgathering works.
It also provides real-life scenarios to prompt discussions about the issues that can arise during the process of research and interviewing.
You can take the above test online, either on this page or on a separate page which is easier to email and distribute at school; a low-tech alternative is to print out this worksheet:
Quiz: Gathering news
[25.05]
--------------------------------------------------------------------------------------------
For reference, teachers may like to look at previous years' resources including 2009-11 and 2006-8.
This lesson has been approved by the BBC College of Journalism.