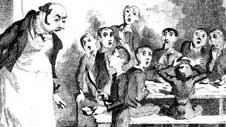 Listen to Oliver Twist by Charles Dickens.
This new full-cast adaptation tells the classic story of a young boy's adventures and mishaps in Victorian London.
The 10 episodes are faithful to the plot and language of Dickens' original story.
Please note that the adaptation also includes some scenes - again from the original story - which depict violence and crime.
There is also a set Programme Notes for the series, providing a range of further activities and mapping the content to the curriculum.