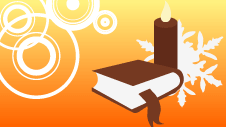 Listen to A Christmas Carol by Charles Dickens in 9 video episodes offering both audio and text.
The classic Christmas ghost story of Ebenezer Scrooge and his haunting by three spirits is read by Alan Smith in an abridgement that is faithful to the original text.
All the episodes of Dickens's Christmas tale are available to play at any time: simply click on the episode links below.
Each episode is accompanied by a short synopsis and a printable transcript, which pupils can follow as they listen. There is also a set of Programme notes which include suggestions for follow-up activities to each episode.
The punctuation and some of the spelling used reflects the original text of the 1843 first edition.