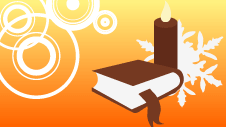 Listen again to A Christmas Carol by Charles Dickens.
The classic Christmas ghost story about Ebenezer Scrooge is told in 9 episodes and read by Alan Smith.
All 9 episodes of Dickens's Christmas tale are available to play at any time, in the classroom or at home. Simply click on the episode links below.
Each episode is accompanied by a short synopsis and a printable transcript, for the children to follow as they listen. There is also a set of Programme notes which include suggestions for follow-up activities to each episode.