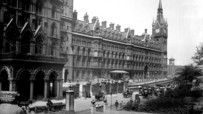 Hello,
God moves in mysterious ways. This is Maundy Thursday, but all it says in my pompous-looking office diary is that it is April Fools' Day. Since when did April Fools' Day take precedence over Maundy Thursday? I checked with other religious festivals of different faiths and they are marked very carefully, but Maundy Thursday has been cast aside. Do the people who run these diaries know anything about our history? Do they know how significant Maundy Thursday is? Do they realise what a lovely word Maundy is? Of course they don't. I am tempted to give the name of this lousy diary so that nobody who thinks that Maundy Thursday ought to be preserved will ever buy it again. But I'll probably infringe some new Act for speaking out against lousy editorial values and so we'll keep mum.
You might sense a little irritation in the above paragraph. This is because, at the end of the programme on the city, I've come into the biggest gridlock I've known in this city (London!) for months.
We have gridlock in a splendid street called Gower Street in which both Dickens and Charles Darwin once lived, though not at the same time. We are going into a wonderful square. This is one of the domestically splendid areas of London which has been choked to death by the motorcar, and buses, and lorries, and vans, and motorbikes, and bicycles. The pavements are empty. One ambition I have is to live within the inner circle of London, but my wife won't move from our sub-urban house with its garden and all the things that we were talking about earlier in the programme. Once in London itself, it's quite a small city to walk around and wonderfully entertaining. Much more so than Paris, for instance, which is extraordinarily more splendid but, after a while, a bit of a dull tramp down those endlessly perfect boulevards, except, of course, when you hit on a fantastic palais or superb fountain. Rome's a bit like London in terms of the wandering possibilities. Sometimes it strikes me as very piddly. I was walking up Shaftesbury Avenue the other day. It was raining. Of course the traffic was jammed but also the pavements were jammed and it did seem like a tiny little alley, and yet, at night, put out a few lights, put on a dozen or so shows in the beautiful little theatres which make up the avenue and itís magic, an ultimate metropolitan allurement.
There was so much to say about the city and perhaps I went far too rapidly to try to cram a lot in. At one stage, there was talk of the next cities being megalopolises of a hundred million people and we didn't explore the growth of shanty towns in so many areas, some of which are bigger than London
.
So, if I ever get out of this traffic jam, I will be headed for Cumberland where there'll be snow and blizzards. We had to dig ourselves out of the cottage over Christmas and this time my son isn't with me to do most of the digging. Nevertheless, there's nowhere else I'd rather be over Easter, even though we might have to scrape off the snow to see the daffodils.
Best wishes
Melvyn Bragg
PS: I'm still in this flaming traffic jam!
PPS: It is estimated that there are more than 3,700 roadworks currently underway in London. Most of these are in Gower Street!