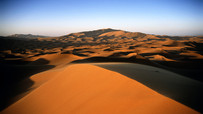 Hello,
When I announced that next week's programme would be on the law of unintended consequences as obtains in mathematics, I ought to have added that we had just had an example of the law of unintended consequences applying to philosophy, the philosophy of history. Surely when ibn Khaldun was writing for those years in his fortress in the desert among the Berbers, he could have had no idea that, centuries later, the sociologist Auguste Comte in France would take up those ideas and run with them. Comte also figured in last week's programme as someone whose anthropological work deeply interested George Eliot. All things after a while begin to connect.
Robert Irwin pointed out that ibn Khaldun had a preoccupation with the occult. He was also intrigued by soothsaying, but he never allowed himself to employ any sense that he had a knowledge of the future. Prophecy was the province of God.
We could have spent more time with the Berbers, I thought. Ibn Khaldun's history is still regarded, I'm told, as the great account of the Berber civilisation. I was interested in how secular he was and he praised Mohammad for not coercing people to take up his religion. He thought that would not work. I was also interested in the fact that he thought that kings were good, and supported the idea of kings, which was bad news for those who believed that their leaders should be caliphs - religious leaders and not the secular leaders on offer by ibn Khaldun. There's nothing, Hugh Kennedy said, in his work which is of any comfort to fundamentalists.
His images could be quite racy. He admired the strength and philosophy of the Bedouins which he thought came from their group feeling and their toughness in surviving desert life, and pointed out that wild cats in the desert were so much more ferocious than coddled cats in the city and that the same applies with people. I hope we got across how radical he was. A previous great Arabic historian, al-Tabari, was very proud to say that in his work there were no original ideas at all. Everything was referred back to the great writers who had preceded him. Ibn Khaldun, on the contrary, questions everything and refers nothing back.
It seems to have been a morning of archives. First of all, the In Our Time archive which goes back to October 1998. There was a step change in 2000 when the then head of Radio 4, Helen Boaden, gave us another fifteen minutes which I thought we desperately needed. This enabled us to bring in three speakers instead of two and have a chance to round up an argument, especially with the help of the quality of academics who have been so generous with their knowledge on the programme.
Then after In Our Time I went to the studios nearby which housed Wogan and now house Chris Evans, to do a down the line interview with Scottish radio about the archive of my own - the writing - which I've given to the Brotherton Library at Leeds. There's something about these archives that gives you a very serious intimation of mortality. And now I'm off to the House of Lords, which can echo to those intimations.
Best wishes
Melvyn Bragg