Main content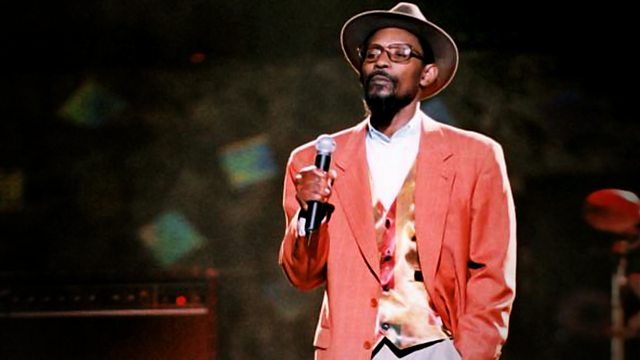 Linton Kwesi Johnson
Sue Lawley's castaway is dub poet Linton Kwesi Johnson.
Sue Lawley's castaway is dub poet Linton Kwesi Johnson. Linton Kwesi Johnson was born in 1950s rural Jamaica. He lived in a farming community and looked after the animals, helping with the sugar harvest and fetching firewood. He lived with his grandmother after his parents separated, loving being the man of the house. She would entertain the young Linton, who she called "me husband", with folk songs, stories and ghost stories.
In 1963, when he was eleven years old, Linton came to live in England. It was a huge contrast: "I had this childhood idea that literally the streets of London would be paved with gold and everybody living affluent lifestyles. So it was a bit of an eye-opener for me when I came and saw all these grey buildings with chimneys and smoke coming out of them and to see a white person sweeping the street!" He experienced racism at school, from peers and teachers alike, and became interested in the black movement. He joined the British Black Panthers in his teens, discovered black literature and began to write poetry of his own. He gained a sociology degree in the mid-1970s and had poems, inspired by politics and the Black movement, published in the journal Race Today. He soon became known for his poetry written in dialect and would often use reggae music to accompany it. He still tours with his band and can command stadium-size stages. Linton Kwesi Johnson became one of only two living poets to be published in a Penguin Modern Classic in 2002. He says "I've made a small contribution to bring poetry back to the people."
During the interview, Linton Kwesi reads extracts from the following poems: 'Sonny's Lettah' taken from Inglan is a Bitch, 'Five Nights of Bleeding (for Leroy Harris)' from Things an Times and 'New Craas Massahkah (to the memory of the fourteen dead)'.
[Taken from the original programme material for this archive edition of Desert Island Discs]
Favourite track: Embraceable You by Charlie Parker
Book: 100 Years of Solitude by Gabriel Garcia Marquez
Luxury: A bass guitar
Music Played
Featured in...
Hear the music choices of some best loved poets.

Guests are invited to choose the eight records they would take to a desert island.