Catherine Bott
Catherine Bott grew up listening to the radio (everything from Pied Piper to the Critics, Housewives' Choice to Round the Horne).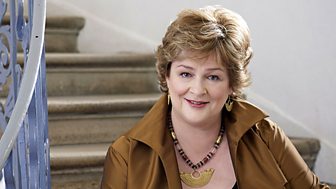 As a teenage wannabe actress, she did two seasons with the National Youth Theatre, and was then intending to read English at university, but the discovery that she could sing well enough to win a place at the Guildhall School of Music and Drama made up her mind about a career.
After Guildhall she sang with the Swingle Singers, performing everything from Bach to Berio and developing her gift for improvisation and scat singing. After two years she left to begin a distinguished career in early music. Among her many recordings in this field are Bach's St. John Passion, Monteverdi's L'Incoronazione di Poppaea and Purcell's Dido and Aeneas.
Nowadays she is spreading her musical wings to perform and record works by Jonathan Dove, Joe Duddell and Michael Nyman: her next cd, London Pride, includes a baroque cantata by Joyce Grenfell and Donald Swann and a number by those well-known Early Music virtuosi Kit and the Widow
Back in the radio world, Catherine's never stopped listening: after all, long before television dared to put an authoritative, intelligent woman presenter on screen, radio had Patricia Hughes, Sue MacGregor and Listen with Mother's Julia Lang and Daphne Oxenford - inspirational voices. She's made many guest appearances on In Tune, Woman's Hour and various Radio 3 programmes, and is now relishing the opportunity to learn the very different skills involved in presenting The Early Music Show. You can also hear her in occasional features for Music Matters.
Leisure activities? Well, between singing and broadcasting, she doesn't seem to have a day off at the moment...