Joe Sellers
60 year old Joe Sellers has always lived a solitary life.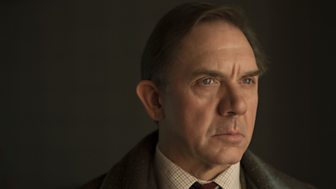 A stickler for rules and routine, Joe has lived in the house for 15 years and works as a Maths teacher. On Coulthard Street he is the first to point out when anyone steps out of line, treating his neighbours as he would his pupils. Joe had previously cared for Melissa's mother and Melissa's arrival left him angry at the loss of his close friend and companion. Living alone, it soon appears that not all is as it seems in the basement flat of 8 Coulthard Street.
David Bamber
Amongst his many stage and screen credits, David starred in the epic BBC/HBO drama Rome as Marcus Tullius Cicero and Adolf Hitler in the 2008 film Valkyrie alongside Tom Cruise, Kenneth Branagh and Bill Nighy. David won the 1995 Best Actor Award at the Laurence Olivier Awards for his performance in My Night with Reg and has appeared in the BBC Drama adaptation of Jane Austen's Pride and Prejudice and BBC Film adaptation of Hanif Kureishi's The Buddha of Surburbia.