Neil
Afraid of nothing and afraid of everything, Neil is perhaps the unlikeliest warrior in the world. Generally unwashed and unshaven, Neil is an orphan who has left the conventional world behind to commit himself entirely to the Angelic cause.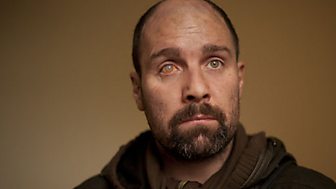 He lives on the edge, and quite likes it there because he can see everything. Teacher, learner, helper, angelic, and a surprising mentor for Paul.
You got two choices kid. You can scream and get the whole house running in here or you can realise I probably have some information that you need to hear."

Neil
Johnny Harris
In 2010 Johnny appeared in This is England '86 for which he received a BAFTA TV 'Best Supporting Actor' nomination and a 'Royal Televison Society Award' nomination. He has appeared in Whitchapel, The Passion, New Tricks, Law and Order: UK and Spartacus. Additionally Johnny has had roles in the films Atonement, London to Brighton, The Imaginarium of Doctor Parnassus, and the upcoming Warhorse, Welcome to the Punch and Snow White and the Huntsman.