Peter Mannion
Peter was "around in the 80s" and is very resistant to Number 10's Director of Communications, Stewart Pearson's, new management style of public relations and blue sky thinking - Peter is also completely clueless when it comes to technology.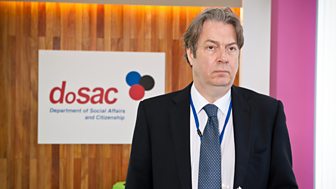 | Fact title | Fact data |
| --- | --- |
| Ministerial Transport: | Jaguar |
Gentleman MP of the old school, Peter has been around long enough for this to be his second shot at ministerial power, having previously served as junior minster at DEFRA (fisheries) in the early 1990s. Briefly rose to prominence when his former researcher announced she was expecting his baby.
Peter ("the Cheater") Mannion is now happily back with Tina, his wife of thirty years. Forced to work with Fergus Williams, his strategy for coalition is to ignore the in-betweeners and hope they'll go away.
Played by Roger Allam