Trixie Franklin
Nurse Trixie Franklin is a bright, glamorous girl in her mid-twenties who is already living and working at Nonnatus House when Jenny arrives.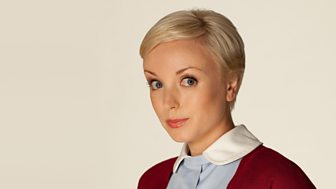 All fully-fashioned nylons and lush red lipstick, Trixie loves jazz and dancing, smokes Sobranie cigarettes and, it's fair to say, is a bit of a flirt. She has a much more outgoing disposition than Jenny, but the two share the sense of adventure in their work and become firm pals.
Helen George who plays Trixie Franklin says about her character: "She's the fun loving, party going midwife who's always up for a drink and a fag and to go out with the boys and have a good dance.
"She relishes trying to set up her fellow midwives with other guys and push them into relationships and get them married off but with a twinkle in her eye. Fundamentally though she's a midwife and that's what she's there to do."