Wilfredo Ponce
Wilfredo Ponce has been a full time Paramedic for 10 years. He is based at a small fire station in the centre of Guatemala City, and being a paramedic is his passion.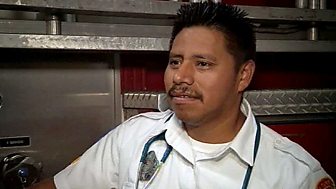 | Fact title | Fact data |
| --- | --- |
| Salary | 3,500 Quetzales (£277) per month - or £3,324 per year |
| Age | 35 |
Most of the casualties Wilfredo attends to have either been involved in traffic collisions or shootings. Having to go into high risk areas, he is fully aware of the dangers.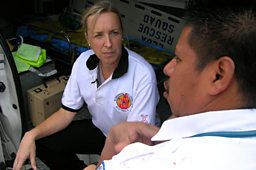 I work 24 hours and rest for another 24. We get 30 medical emergencies a day - people who've been shot, stabbed, involved in a traffic accident or in a fire.

Wilfredo
And although it worries him, he says that is not going to stop him from doing the job he has been trained for.
Notorious Area
Wilfredo grew up in the 'El Gallito' neighbourhood which is a notorious gang area, and has experienced the effects of gang activity directly as well as through his work and most of the friends that he grew up with are now dead.
Wilfredo managed to get out of the slums partly through working as a paramedic and now feels much safer.
Like all paramedics in Guatemala, Wilfredo trained both as a paramedic and a fireman.
He then decided to become a trainer and now takes care or the professional development of new Bombero recruits.
Constant Battle
There is not a better reward for him than to use his skills to help others and make a difference.
But the frustrations of the job are many. The lack of resources is a constant battle, he would love to have access to the equipment and resources of modern ambulance services.
Often he feels that he does not have basic medical equipment that could save somebody's life.
Love of a woman
Although being a paramedic has become Wilfredo's life, that was not always the case.
It was the love of a woman that made him became one. He fell in love with a girl whose father was a paramedic, and she wanted him to be one as well.
Although the relationship did not have a happy ending, becoming a paramedic changed Wilfredo's life forever.
Proud Family
Wilfredo now lives in Ciudad Satelite, about 45 minutes from Guatemala City, with wife Mildred and their three children.
His family are all very proud of what he does and his son wants to follow in his footsteps and be a paramedic as well. He does not like telling his wife Mildred much about what goes on at work.
He does not want her to worry, although she is very aware of the dangers that he faces at work.