Tim Rogers
Tim Rogers is an award winning broadcast journalist with more than 30 years' experience specialising in news and current affairs – in Wales, the UK and abroad.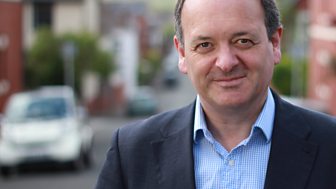 Originally from North East Wales, Tim trained as a newspaper journalist. He stayed with newspapers in the North West of England for seven years before coming back to Wales to join BBC Radio Clwyd, a community station.
Tim then joined BBC Wales where he worked in a variety of roles as Reporter and News Editor for Radio Wales, as a Reporter and Presenter on BBC Wales Today – and the current affairs series 'Week In Week Out'.
Tim then left the BBC to work for ITN as a Senior Correspondent and Moscow Correspondent. During this time Tim covered wars in Iraq and Afghanistan witnessing the last Taliban stronghold fall to alliance troops and the execution of Saddam Hussein.
Before re- joining the BBC in 2012, Tim was a Director at The Thomson Foundation, an international media organisation which specialised in advising media companies and training journalists around the world.
The aspect of Tim's role as the presenter he enjoys the most is shining a light into dark corners as he feels that transparency is essential for effective and democratic government. He, along with the 'Week In Week Out' team, inquire and report to bring light into the room and to give a voice to people who in some cases have been frustrated and ignored by the system.