Tim Vine
Tim is known for his quick-fire jokes but will he be as quick on his feet when it comes to dancing for Comic Relief?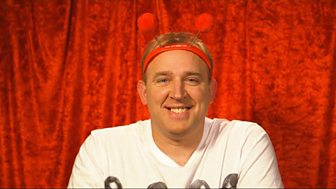 Tim Vine is a writer, actor, comedian and presenter, perhaps best known for his role in the sitcom Not Going Out – in which he starred from 2006 to 2012. Born in London, he is the brother of journalist and BBC Radio 2 presenter Jeremy Vine.
Tim started his stand up career back in the mid-1990s and first went to the Edinburgh Festival in 1995 where he won a Perrier newcomer award for his show The Tim Vine Fiasco. A regular at Edinburgh ever since, in 2010 he won the award for funniest joke with 'I've just been on a once-in-a-lifetime holiday. I'll tell you what, never again.'
His comedy act primarily consists of quick-fire one-liners and puns – something he put to good use in 2004 by breaking the Guinness World Record for most jokes told in an hour (an impressive 499), a record he held until May 2005.
Tim has taken his stand up on tour around the UK three times and has appeared on Live at the Apollo, The Royal Variety Performance, and The Stand Up Show.
In television, Tim was part of the award winning The Sketch Show alongside friend Lee Mack and Jim Tavare. He later went on to co-star alongside Lee Mack in Not Going Out.
In 1997, alongside Julia Bradbury, Tim had the honour of co-launching Channel 5. His TV presenting credits include the game show Whittle, Housemates and Fluke. His first major TV role since leaving Not Going Out was presenting Don't Blow the Inheritance, a daytime quiz show.
Trivia: