Murray MacLeòid
Chuir sinn ceist neo dhà air Murray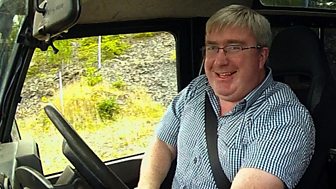 Dè a' chiad chàr a bh' agad?
Seann Jetta, coltach ri tanca.
Cia mheud turas a rinn thu an deuchainn dràibhidh agad?
Dìreach an aon.
Dè an rud as fheàrr a rinn thu air Air an Rathad gu ruige seo?
Na Czech Wrecks agus a' dèanamh a chùis air Donaidh anns na Rèisean Craicte.
Nam b' urrainn dhut càr sam bith anns an t-saoghal a cheannach, dè bhiodh ann?
Aston Martin 'son a' mhòine a thoirt dhachaigh.
Dè an èideadh as miosa a bh' agad ri chur ort airson na Rèisean Craicte?
A h-uile h-aon dhiubh.
Murray Macleod
What was your first car?
An old Jetta, it was like a tank.
How many times did you sit your driving test?
Just the once.
What is the best thing you've done on Air an Rathad so far?
Czech Wrecks, and beating Donnie in Wacky Races.
If you could buy any car in the world, what would it be?
An Aston Martin for taking the peats home.
What's your worst Wacky Races costume?
All of them.