Germany
Representing Germany are Elaiza with Is It Right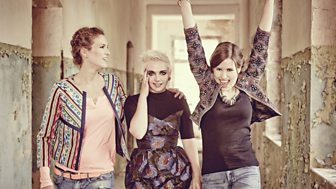 Elaiza, pronounced Ela-i-sa, are singer-songwriter-pianist Ela, accordionist Yvonne Grünwald and bassist Natalie Plöger. The young trio managed the amazing feat of gaining a 'wildcard' for the German national final out of more than 2200 acts that had applied via YouTube, then winning the golden ticket to Copenhagen over seven of the most famous acts from the German music scene. In Copenhagen, they will perform their self-penned song Is It Right.
Before the pre-selection round we were so happy to have 2000 Likes on Facebook. And then overnight, there were suddenly 16,000

Elaiza
Ela's Ukrainian-Polish background clearly influences her song writing and singing. The band won the Best Newcomer Award at the Women of the World Festival 2013 in Frankfurt, and it was in Hamburg at Our Song for Denmark they won the coveted 'wildcard', making the final show to determine the German participant at Eurovision.